February 13, 2010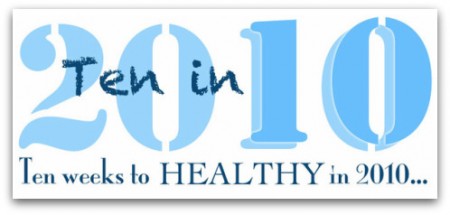 Time flies when you're having fun, right?
It doesn't really seem like it's been six weeks since I started the Ten in 10 Healthy Challenge. It's been a really good thing for me; I've been more focused and more motivated than ever before. Those nasty ten pounds that crept onto my body during my time in "the boot" last Spring have refused to budge until now! (Oops! I think I said that I wouldn't mention that again.)
Here are some positive things that happened this past week:
I was able to spend a lot of quality time with my family while in Texas.
I got to see my BFF, K on my visit. (We've been BFF's since 7th grade.)
I was able to get in good workouts while on my trip. (Which I don't always make a high priority on my visits.)
I managed to maintain my weight, despite a great meal at each of my three favorite Mexican restaurants and two amazing dinners at my new favorite Greek spot in Dallas.
I worked out really hard every day after returning home from my trip so I'd be lying if I said that I wasn't a little disappointed to not to see the scale go down a pound or two when I weighed in yesterday. I'm not going to beat myself up about it, though, because I'm just grateful that it didn't go up.
Not that it has anything to do with this challenge but the best part of this past week was having some 'one on one' time with my oldest son, BigT. I don't think I've mentioned it here on BigSisLilSis yet, but he leaves in nine days for Great Lakes Naval Base in Illinois to begin his Basic Training. I won't be able to speak to him or see him for two months so I'm really grateful that I was able to make the trip to spend some quality time with him before he ships out. We're proud of ya, BigT!
And a HUGE thanks goes to BigSis for taking such good care of him and letting him stay with her during this interim period!

~LilSis