February 17, 2010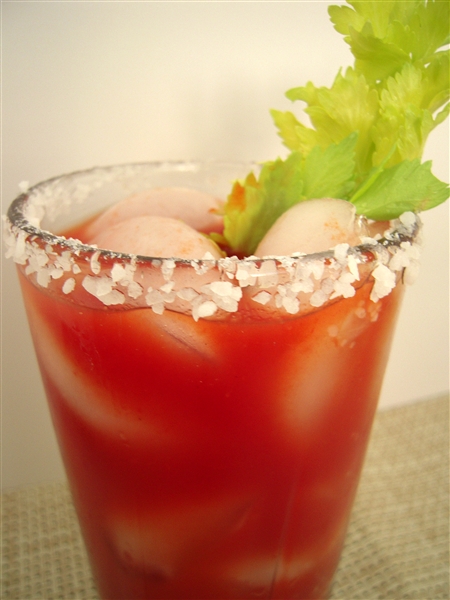 BigSis and I made this Bloody Mary recipe for a big family get-together on Thanksgiving about ten or twelve years ago. This recipe is perfect for a big party or a holiday celebration since you make it the day before and it makes a full gallon. I love anything that can be made ahead of time that helps eliminate last minute preparations.
With this already chilled in the frig, all you have to do the day of the party is stir in the vodka and you're ready to serve to your guests as they arrive. It also comes in handy if the cooks get a little thirsty while working in the kitchen.
This past Sunday, we had a big Valentine's Day Brunch so I decided to make this recipe since we were serving a pretty big group of friends. I even ended up doubling the recipe. Since V-8 has more than enough sodium, I eliminated the regular salt and the Seasoned Salt from the recipe and just used one teaspoon of celery salt instead.
Overnight Bloody Marys
(adapted from 1994 edition of Southern Living "Our Best Christmas Recipes")
1 46 oz can tomato juice
1 46 oz can V-8 (I used the Spicy)
1 c. lemon juice
1/2 c. water
2 T. Worcestershire sauce
1 t. celery salt
Frank's Red Hot (to taste)
3 c. vodka
Combine first seven ingredients in container and stir well. Cover and chill at least 8 hours. Stir in vodka just before serving.
We set up a Bloody Mary bar with Tabasco, Frank's Red Hot, celery sticks, green olives, pickle spears, horseradish, cocktail onions, and lemon and lime wedges so everyone could season and garnish their Bloody Mary to suit their own taste.
I won't wait another ten years to make these again!

~LilSis