February 20, 2010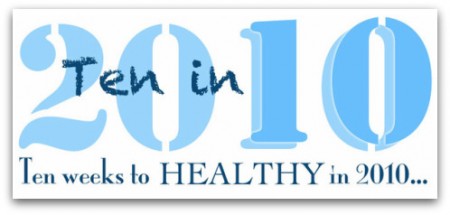 Here we are again. I promised to check in every Saturday with a brief update on my progress with the Ten in 10 Healthy Challenge. This will be my seventh update and we only have three more to go. If I reach my goal weight When I hit my goal, I'm treating myself to a new swimsuit, so that's one thing that's really keeping me motivated.
The past week was a bit like a roller coaster. After only being home from Texas for two days, we had a gorgeous three day weekend which included an all day Brunch on Sunday with Bloody Marys and Mimosas.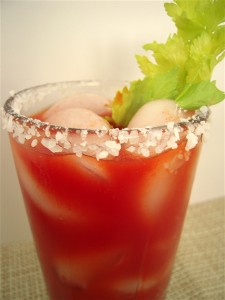 Luckily, I can resist cinnamon rolls, donuts, and croissants, but my weakness lies with the pigs in a blanket and the Mexican Crustless Quiche that I brought which had an entire pound of bacon in it. 🙂
Once Monday rolled around, it became a continuation of the all day Sunday party. Luckily, I got in a long walk early in the morning because we ended up having a lot of friends off work so we all got together again for salami, cheese, crackers, and more Bloody Marys.
(Needless to say, I didn't keep up  on my food log this week. Starting that again tomorrow.)
By the time Tuesday arrived, I was ready to get back into the gym. Tuesday and Wednesday I did some major cardio workouts and included weight training on Tuesday. On Friday, I was in my 'kick butt' yoga class. I feel like a new person when I leave that class!
Long, story short, with all my indulgences, I did manage to lose a pound this week, so I'm happy! Next week is probably going to be a critical week for me. I'm guessing that these last four pounds are going to be pretty hard to blast off of my fanny. I'm going to have to crank it up a notch this week.
As for today, I'm going to enjoy "my weekend rules". 🙂

~LilSis