February 27, 2010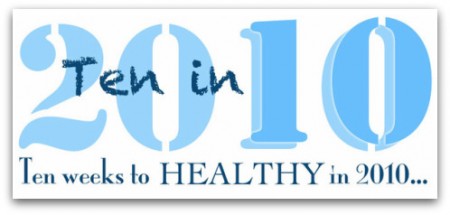 I've just finished week eight in the Ten in 10 Healthy Challenge. I knew this was going to be a hard week, but it was even harder than I had anticipated. It was a weird week.
Since Bry left on Monday, I've been very preoccupied with thinking about him and wondering how everything is going for him. At the same time, I was trying to focus and finish up a couple of big projects that need to be done before Meem, TallGuy and LittleOne come to visit us next week. Since I didn't make my weekly shopping trip on Sunday and was trying to utilize my time wisely during the work week while HayHay was at school, I slipped up on my meal planning.

So, unfortunately, this darn thing didn't budge this week. I had a Dr.'s appointment. on Friday morning and, as usual, their scale was three pounds higher than mine, but I write that off as my shoes and clothes.
That being said, I refuse to obsess about it or get discouraged. I know where I slipped up and I'll just have to do better next week.
My biggest problem this past week was not having a stocked frig. I didn't have what I normally like to eat for lunch so I ended up not eating enough which caused me to end up hungry before dinner and that's when I start in on the snacking.
I don't know whether it was the salted peanut butter pretzels or the one night of indulgence in sharp cheddar cheese, the KFC night or possibly the night we split a bottle of champagne, but probably a combination of all of those things contributed to me not shedding an ounce this week.
Luckily, I still managed to get up early and get in a good workout every morning. If I hadn't, I'm sure I would have gained a little.
Since we're having company next week, it's going to be a little tricky for me to not allow myself to be on "vacation rules". I'm going to have to plan our meals ahead and make sure I have healthy choices for myself.
If you're participating in this challenge or if you set some goals for yourself for a healthier 2010, I'd love to hear how you're doing and how you're staying motivated.
Have a great weekend! 🙂

~LilSis