March 3, 2010
The last time I ran out of my Chanel eye cream, I decided it was time to try to find something comparable at a more reasonable price. Not to get into too much detail about the depressed economy and the effect that it's had on my personal spending, but these days, I think a lot of us are trying to trim the fat from the budget and $75.00 for eye cream is just too much of a splurge.
There was a time, not too long ago, when I would run out of all three of my favorite Chanel beauty products at the same time and I wouldn't think twice about running to Macy's to replace them.  Since I'm trying to be more "budget conscious", I decided that there had to be something out there that's just as good with a smaller price tag. You know BigSis and I both love Origins and since I already use several of their other skin care products, I thought I'd check out their eye creams.
After looking over several choices, I decided to try the Youthtopia Firming Eye Cream. This is how Origins describes the Youthtopia: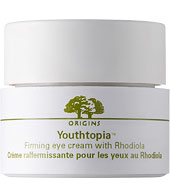 If aging signs are staring you in the face, but you worry about harsh, sci-fi sounding chemicals in some treatments, discover Origins revolutionary approach to aging skin around the eyes. Youthtopia™ Firming eye cream with Rhodiola, the legendary Siberian herb linked with longevity, visibly de-ages, reduces puffiness and helps empower fragile eye skin to rebound from damaging stress. Your eye area looks firmer and more youthful with none of the potential wrinkles.
I've been using this eye cream for a little over a month now and I'm really happy with it. At $39.50, this product is much kinder on the wallet and I like it as much as the more expensive brand. I have to be careful with some night time eye creams because they tend to make my eyes puffy in the morning, but I haven't had that problem with the Youthtopia.
If you've got a favorite eye cream that's reasonably priced and gives great results, I'd love to hear from you.


~LilSis