March 6, 2010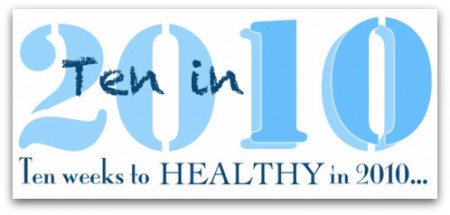 We've had company since Monday so it's been a CRAZY week! My top priority this week was to spend some quality time with Meem, TallGuy, and LittleOne so I ended up cutting myself a little slack on the extra workouts so we had more time to visit.
We had a few splurges but overall we managed to eat mostly healthy meals and went for some nice, long walks. (Pushing a stroller uphill with a 25 lb. toddler in it is great exercise that I'm not used to anymore!)
When things are crazy busy, the one thing that saves me from grabbing the cheese and crackers or the chips and dip is making sure that I have healthy snacks on hand. I've talked about these before, but I thought this might be a good time to recap my list of Top Ten Favorite Snacks.
Mott's Healthy Harvest Granny Smith Applesauce (mid-morning snack) (1 cup; 50 calories, 0 fat)
Boiled or scrambled egg with Frank's Red Hot Sauce  (mid-morning snack) (1 large egg, 70 calories, 4.5 g. fat)
Trader Joe's Multi-Grain Pretzel Nuggets with Sesame Seeds  (22 pretzel nuggets; 110 calories, 1 gram fat)
The Laughing Cow Light Creamy Swiss Wedges or Cheese Bites  (1 wedge or 5 cheese bites; 35 calories, 2 grams fat)
Weight Watchers Natural Light String Cheese (1 stick; 50 calories, 2.5 g. fat)
Shelled Edamame (1/2 c. serving; 110 calories, 3.5 g. fat)
Trader Joe's Everything Pretzel Slims (23 slims; 110 calories, 1/2 g. fat)
The Laughing Cow Mini Babybel Light (1 piece; 50 calories, 3 g. fat)
Trader Joe's Parmesan Garlic Pita Chips (1 oz.; 130 calories, 4 g. fat)
Trader Joe's Roasted Garlic Hummus (2 T.; 50 calories, 3.5 g. fat)
Next week is officially the last week of the Ten in 10 Healthy Challenge but since I was out of town for a week last month and had house guests this week that got me off track a little bit, I'm going to continue this challenge until the end of March. I probably won't post another update until I reach my goal, which at that point, is going to be reason for a celebration.
Thanks again to Lori of The Recipe Girl for starting the Ten Weeks to Healthy in 2010 Challenge. It has really helped me stay motivated and focused on making 2010 a healthier year!
I hope everyone that started this Challenge on January 2, 2010 has managed to hang in there and stay motivated! Whether you're still going strong or have had some stumbling blocks along the way, I'd love to hear how you're doing!

~LilSis