March 12, 2010
You know the old saying, "looks can be deceiving"?
This muffin almost looks tasty, doesn't it?
In the close up, you can see all the yummy fruit. These were loaded with carrots, zucchini, raisins, and even some canned pumpkin with some coconut on top.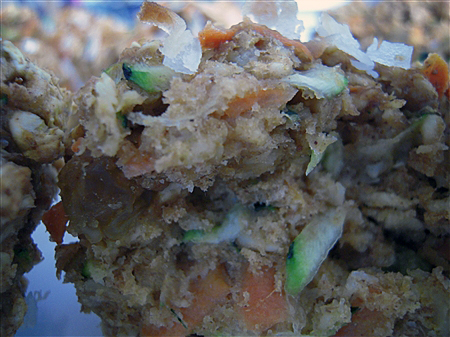 But these glompy, globs of fruit didn't turn out quite the way I had planned.  They look more like a preschooler's art project gone wrong! I decided to suck it up and show this photo. Aren't they horrid?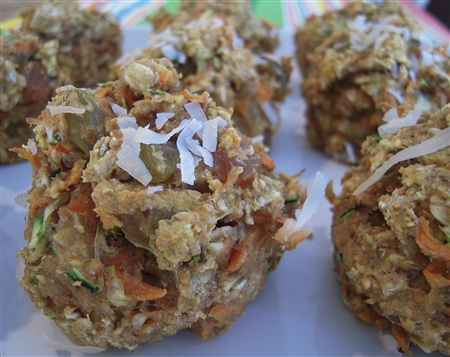 Yesterday I was disappointed and pissed off, but today I just think it's pretty funny. I wasted about two hours yesterday morning making these and cleaning up. I did try one and I'm not saying that they are inedible, but I won't eat another one. Way, way too heavy and glompy, or as HayHay called them; groddy! (I don't even think that's a real word but it did describe them pretty well.) Each muffin weighed about the same as a hockey puck.
Hmmm. That just gave me an idea. I could probably let the kids down the street use these as hockey pucks. I haven't thrown them out yet but I know that no one in this house is going to eat them! Not even HayHay, my 16 yr old garbage disposal.
I was trying so hard to come up with a really healthy breakfast muffin that I got a little overzealous and made too many changes. I could ramble on and on about what I did wrong, what I shouldn't have substituted, and what I would do if I ever tried this recipe again, but it would just be a waste of time. I'm not going to try them again.
There are several reasons why I'm not a good baker and why I don't enjoy baking BUT I've finally narrowed it down to only one reason.
I don't like to follow any recipe to the tee.

Never.


Ever.
That's my problem and I can't really ever see myself changing. I can't do it. I love the creative part of cooking and not the precise measuring and science that is a requirement to be a good baker.
When I cook, if a recipe calls for one garlic clove, I'll use three. Or if it calls for an onion, I'll use shallots instead. Or maybe I'll throw in capers or artichokes in a recipe just for a little something extra. Whatever. You just don't have that freedom with baking unless you REALLY know what you're doing.
I know that there are very experienced bakers out there that know exactly how to adapt a baking recipe. Some of my favorite blogs are written by some amazing bakers and I totally enjoy reading them and am always amazed at the talent it takes to be a good baker. I admire those of you that know "your stuff"! I really think you've either got it or you don't. And, I don't.
I'm not saying that I'm giving up forever, but I'm going to put myself out on a limb and say that, for now, I'm leaving the baking up to BigSis. And, I wish that someday we could get SisMama to do a guest post here on BigSisLilSis. Our Mom is an amazing baker and can whip up a cake, cookies or pie from scratch without even thinking twice or looking at a recipe. BigSis got lucky and got the baking gene from SisMama, not me.
Anybody know of a great healthy breakfast muffin that I can buy at the store?

~LilSis