March 14, 2010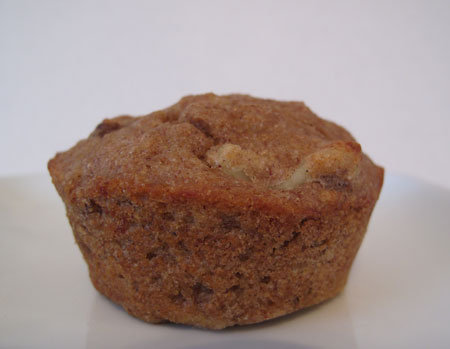 This humble muffin is a muffin with a secret.  He's not very flashy; lots of other muffins are turbo-size, or chock full of fruit and even chocolate chips.  He's not real pretty either; just a modest little tan guy with a few glimpses of nut here and there.  And he's not a sweet-fluffy-puffy-light-as-air muffin.  He's a substantial guy, moist and dense.  But his secret is what makes him more special than the flashy or pretty muffins.  This muffin is healthy AND tasty.
This guy's given name is Banana-Wheat Germ Muffins, and he was born in the cookbook called Veganomicon
by Isa Chandra Moskowitz and Terry Hope Romero.  Yep, you guessed it!  This muffin's middle name is Vegan!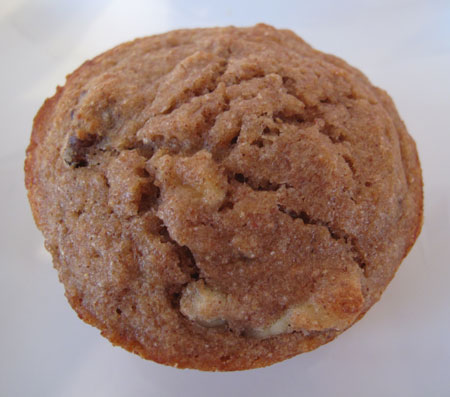 I made these muffins a couple of times when Bry was here, and we polished the dozen off between us in only a couple of days.  It is true that Bry is my nephew, and a sweet one at that, so even if these muffins were craptastic, he would probably still gobble them up and declare them delicious.  I've had my share of baking disasters though, and I don't count these muffins among them.
This recipe was my first foray into vegan baking, and I was nervous to say the least.  How could I make a delicious baked good with no eggs and no dairy?  The first thing I needed to do was find a reliable and creative vegan cookbook, and Veganomicon
fits the bill.
These muffins use baking powder for leavening, with a bit of canola oil added to the mashed banana for tenderness and moisture.  I made just a couple of changes to the original recipe.  I added about a cup of toasted, roughly chopped walnuts, and used my homemade almond milk instead of soy milk.  I also added a dash of good nutmeg, along with the cinnamon.  You can find the recipe for Banana-Wheat Germ Muffins on RecipeZaar.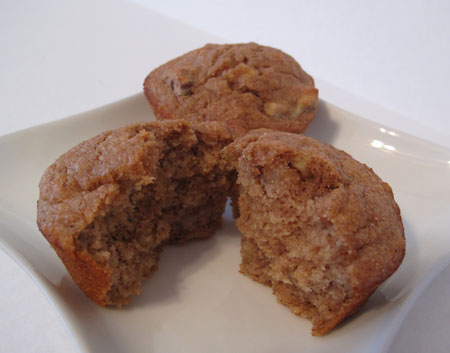 There's a lot to love about these muffins.  They are:
Low in sugar: only 1/3 cup for the whole dozen.
Full of whole grains from the whole wheat pastry flour and wheat germ.
Low in fat: only 1/3 cup canola oil.  No butter, no eggs, no sour cream, nothing to clog your arteries!
Easy to customize by adding your favorite nuts, seeds or spices.
Filling and do a great job of keeping you satisfied til lunchtime.
One note:  I think these are better the second day.  The first day, they have a very slight bitter aftertaste that I suspect may come from the wheat germ, but it mellows and dissipates by the second day.
Hey, LilSis! Don't give up on baking, even if you weren't happy with your Low Fat Fruity Breakfast Muffins.  Any time you try a modification, you run the risk of a boo-boo, but keep trying!  I wonder if maybe you weren't totally pleased with these muffins because there was a pretty high ratio of goodies to batter?  And don't be intimidated by the fact that SisMama and I like to bake; we both have our failures and we both always use a recipe!  Don't quit!  For the love of HayHay and SirHoney's sweet tooth, don't quit! 🙂

~BigSis