March 16, 2010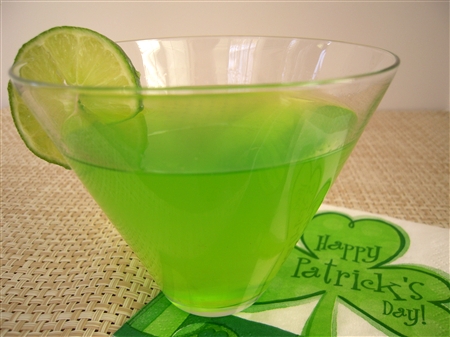 Need an idea for a quick and easy, green and glowing cocktail for St. Patty's Day? If so, I think you'll like this one. It's super quick and easy and looks really festive served up in a nice martini glass. This cocktail is a little on the sweet side for me but it's always the hit of the party.
I've got just a teeny, tiny bit of Irish in the blood so maybe that's part of the reason why I enjoy putting on a fun-filled St. Patty's Day Party every year. SirHoney got the Irish genes from both his dad and mom so he's a little more fond of corned beef, cabbage and potatoes than I am, but I'll pacify him on this one day. I actually get to take a break from hosting the party this year.
One of my good friends is hosting the "shindig" at her house and she always throws a great party so I'll have to make a conscious effort to "behave" since it falls on a work night this year. I don't want to wake up Thursday morning with the "Glowing Gecko Cocktail" flu! (That could get ugly!)
I mentioned this cocktail last year when I talked about St. Patty's Day Party ideas and I've served the original Glowing Gecko recipe at a couple of my parties but I decided to adapt the recipe a bit this year. I'll be taking all the 'fixins' to my neighbor's house so we can make this new version tomorrow night.
I'm not a big fan of rum and most of our friends aren't rum drinkers either, so I eliminated the rum. And since we all know that Sweet & Sour mix is loaded with calories, I eliminated that also. Here's my adapted concoction.
Glowing Gecko
(adapted from RecipeZaar)

2 oz. vodka
2 oz. Midori melon liqueur
1/2 oz. fresh squeezed lime juice or Rose's lime juice
1 oz. club soda
Combine first three ingredients with ice in a shaker. Shake and strain. Serve either straight up or over ice in a martini glass. Pour in club soda and garnish with lime.
Have a safe and happy St. Patrick's Day!

~LilSis