March 18, 2010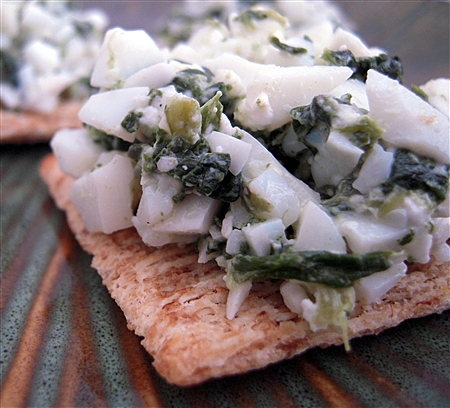 Since we just celebrated St. Patrick's Day, I figured this would be a good time to talk about how much I love the color green. If you've ever been to my house, then you already know that. Between my family room, kitchen, master bedroom and master bath, I've got seven different shades of green on the walls. It sounds weird, but it works. It's not offensive baby poop green, just more outdoorsy "plant like shades" of green.
So what does that have to do with Egg White Salad? Not much, but in addition to loving the color green on my walls, I have a little obsession with green vegetables. I have to eat at least one green veggie for lunch and dinner every day or I feel like I haven't eaten a well balanced meal. My favorite green veggies would have to be asparagus, broccoli, spinach, edamame, brussells sprouts, green beans, and green peas; and we include one of these with dinner almost every night. Luckily, my guys love the green veggies too!
A couple of weeks ago I bought an Egg White Salad with Spinach, Feta Cheese, and Parmesan from Trader Joe's. The spinach in the salad is what initially got my attention. It was good but I was a little disappointed that it had green onion in it. Green onion happens to be one green veggie that I'm not in love with.
I didn't save the container to make note of all the exact ingredients so I just made this up as I went along in an attempt to duplicate the salad, minus the onion. Luckily, this is not the kind of recipe where you have to worry about the quantity of each ingredient. I probably could have used one less egg white or a little more spinach, but for my first try, I thought it turned out really good.
This would have been great on top of some romaine or butter lettuce and sandwiched in-between an Oroweat Multi-Grain Sandwich Thin, but I had it for lunch on a few Reduced Fat Triscuits.
Egg White Salad with Spinach, Feta Cheese, and Parmesan
4 boiled eggs, yolks removed and whites chopped
1/4 c. cooked and drained frozen spinach
2 T. Feta cheese
1 T. Parmesan
1 T. Light Sour Cream
Salt and pepper to taste
No need for any fancy directions. Just mix all ingredients in a bowl and season to taste. Serve on toasted bread or crackers.

~LilSis