March 29, 2010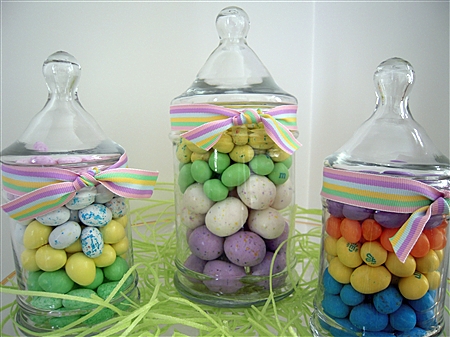 The April 2010 issue of Martha Stewart Living is loaded with creative and crafty ideas for celebrating Easter. If I had the patience, I would have attempted the adorable Easter Egg Sugar cookies, but I knew they would never have come out as beautiful as the ones in the magazine.  So when I saw the adorable Easter Candy Parade, I thought these cute little jars might be something I could put together since they didn't require any baking! 🙂
These are perfect little gifts for teachers, friends, neighbors or coworkers. I think they're a lot more fun and colorful than just giving someone a bag of candy or a chocolate bunny for a Happy Easter gift.
WalMart had a huge assortment of pretty, colorful Easter candy this year. I used a combination of Speckled Malted Milk Balls, Mini Robin Eggs, Pastel Peanut M&Ms, Speckled Jelly Bird Eggs, SweetTarts Jelly Beans, Reese's Pieces Pastel Eggs, the white chocolate bunny, and even some edible green apple grass. I also got the apothecary jars at WalMart for around $3.00 each.
These are so easy to make that the kids would even enjoy putting these together themselves. I went a little overboard so I've got to go get more jars so I can make more gifts or else we're going to end up with way too much Easter candy left in this house!

~LilSis