March 31, 2010
I can't believe Easter is just four days from today! If you're like me and don't enough time to make a cute Easter Bunny Cake or Easter Basket Cupcakes, here's a quick and easy candy treat.
I decided to try two different versions of the Easter Bird's Nests. They're a little messy, but I think they turned out pretty cute.
For the first batch, I used this recipe that calls for butterscotch chips and peanut butter. If I made these again, I would just eliminate the peanut butter. These were more gooey and took longer to set than the ones with just the chips.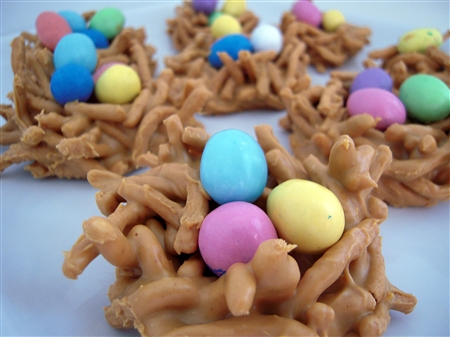 Bird's Nests
2 c. butterscotch chips
1 c. peanut butter
2 c. Chow Mein noodles
Any egg shaped Easter candy (I used Robins eggs and M&M')
Cover a baking sheet or pan with waxed or parchment paper. Either melt the butterscotch chips and peanut butter in the top of a double boiler or in the microwave (heat 1 minute, stir, continue heating in 10 second increments until melted and smooth.) Stir in Chow Mein noodles. With buttered fingers shape mixture into one big nest or individual ones. Place on prepared pan. Refrigerate until firm. Fill with jelly beans or other candy.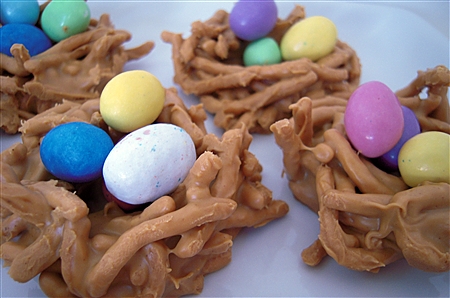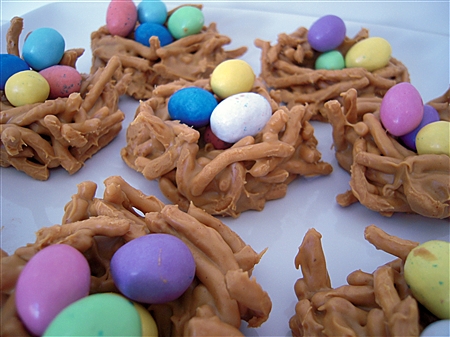 For the second batch, I simply melted 2 cups white chocolate chips and added 2 cups Chow Mein noodles. I thought the little white nests would look cute with some grass inside them so I made some green grass by adding a few drops of green food coloring to a little coconut and shaking it up inside a baggie.
I think that I like the white chocolate version better but I could have used an extra cup or more of Chow Mein noodles because they seemed a little runnier than they should have been. These firmed up really quickly though which makes it easier to get them decorated if you're in a hurry.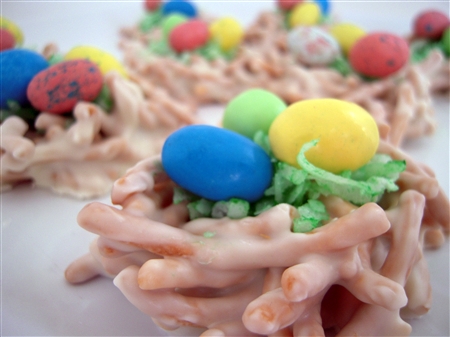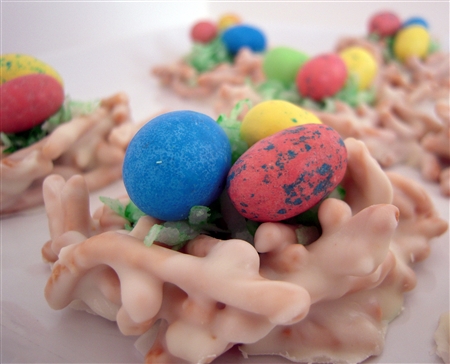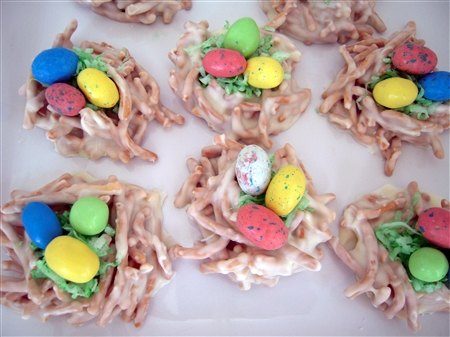 So, what's next in our Easter treat lineup? Come back tomorrow to find out! 🙂

~LilSis