April 1, 2010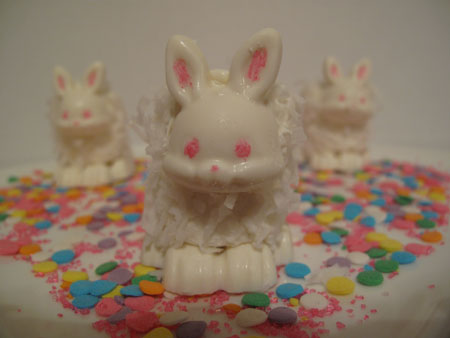 When you hear the words "Marshmallow" and "Easter", do you think of Peeps or maybe those super-sugary marshmallow eggs with the hard sugar shell?  I don't because I don't like either of those Easter candies.  To me, they're the Easter version of the hard-as-a-rock peanut butter taffy wrapped in black or orange paper that you got at Halloween as a kid, and tried to pawn off on your unsuspecting little brothers in exchange for their chocolate candy bars!
I have a new Easter marshmallow treat to share with you, and these also have white chocolate.  This project isn't quite as fancy and classy as the Easter Bird's Candy Nests that LilSis made yesterday, but they're pretty fun to make and I think kids would have a ball putting them together.
The key is to get yourself a candy mold like this.  It has bunny heads and bunny bases with feet and tails (bunny butts).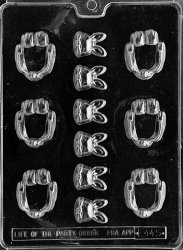 I got mine at my cake supply store, but you can find them online too.  I have bunches of these kinds of molds.  They're only about $2.50 each, and you can use them for chocolate, candy melts or even soaps.  Buy just one or two, and you'll be addicted to them.  You can customize candy for any kid's party theme and color scheme.  Wrapped up in foil papers, people will be shocked that you made these cute candies yourself.  I made little green frog chocolates for a kid's party once, and the kids were thrilled!
So back to this project.  Here's what you do:
Melt some candy melts or chocolate wafers (I like the Guittard White Chocolate Wafers; they come in mint too).  I nuke them for 30 seconds, then stir, and repeat til all are melted.
Pour the melted chocolate into a squeeze bottle, and fill the cavities in the mold.  Once it's filled, tap the mold gently on the counter to bring any air bubbles to the surface.  Add more chocolate if needed.
Refrigerate the mold for a few minutes until the shapes are set and cold.  Unmold.
Now the fun part!  Use more melted chocolate to lightly coat large marshmallows, then immediately roll in shredded coconut.  Chill for a few minutes to set.
Decorate the bunny faces if you like.  I used food markers, but they tended to slide around a little on the chocolate, so you'll probably come up with better ideas than BigSis-in-a-hurry did!
Add a dab of melted chocolate to the bottom of the marshmallow and gently press onto the base.  Then, with a dab of melted chocolate, add the bunny face to the front of the marshmallow.
You just made a Marshmallow White Chocolate Easter Bunny!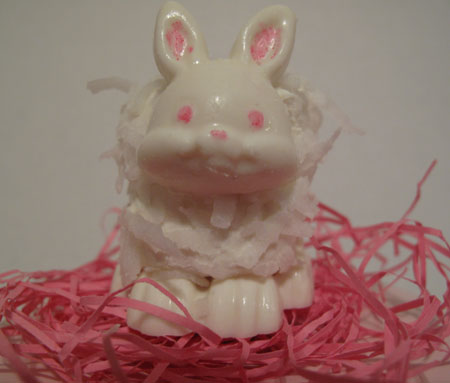 ~BigSis