April 12, 2010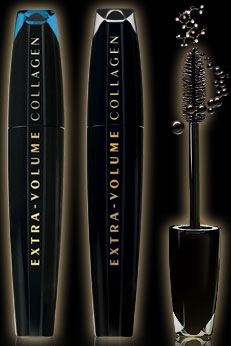 Have you been seeing all the ads and hearing all the buzz about L'Oreal's Extra-Volume Collagen Mascara?  I have, including a pretty glowing positive recommendation from More Magazine, which I really like.  I'm always on the lookout for a new great mascara, just as I am for miraculous new eye creams and anti-aging skin cream.
This mascara claims that their "instant-impact brush builds breathtaking volume fast." I was intrigued and picked up a tube recently.  This shot of Eva Longoria-Parker's lashes from L'Oreal's ad sets a pretty high expectation for the Extra-Volume Collagen Mascara, don't you think?

We usually don't do reviews unless we have something good to say, so let me think.  This mascara is a nice black color, it comes off easily at the end of the day with Lancome BiFacil, it doesn't smudge at all, and it doesn't flake much; no more than the L'Oreal mascaras I like.
Did it give me breathtaking volume like Eva?  No.  I had a really hard time maneuvering the ginormous brush without getting it all over my eyelid, and what I ended up with is stubby lashes.  No volume, no length, no curl.  Just stubs.  And "stubs" is not what I'm aiming for when I apply mascara!  I also got some spiky clumps, again not what I was going for.
So it's back to my usual cocktail of L'Oreal Voluminous Mascara followed by a dash of L'Oreal Lash Out Mascara.  I should have kept my sales receipt and returned L'Oreal's Extra-Volume Collagen Mascara, but I didn't so I guess I'll try to use it up on the weekends.  If you run into me at SuperTarget on a Saturday afternoon, please don't stare at my clumpy, spiky stubs! 


~BigSis