April 13, 2010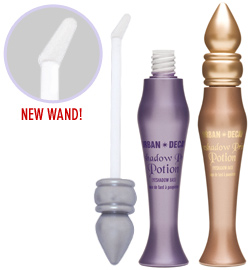 Do we have any avid Urban Decay Primer Potion fans out there? I bet we do. But if you've never tried this product and need a little help keeping your eyeshadow on all day, you'll want to try it! You will absolutely notice a difference with this potion on underneath your eyeshadow. It will last all day with no creasing! Promise.
But, I still have one little complaint about this product. The shape of this container leaves a lot of the product inaccessible and therefore it goes in the garbage with the container when you can't get any more out. Last year Urban Decay made an announcement about the new wand and how the angled shape of it would help get all the potion out of the container. I've been using the new wand for months now and not only do I not like the new wand but I don't think it helps at all. It may be time for another hack.
In case you missed it, last year I published an Urban Decay Hacker Tutorial with some step by step photos and instructions to help you hack into your bottle. These are just a few of the photos to give you an idea as to how much product is wasted.
That's a lot of product that would have ended up in the garbage!
Maybe this is a silly question, but, why not just change the shape of the container?

~LilSis