April 25, 2010
We can't leave our Chicago chat without talking about the food!  If you mention Chicago, some people will think about Wrigley Field, Soldiers Field, Millennium Park, the Sears Tower ledge, the Navy Pier, the lake, and even Oprah.  But lots of people I know will think about the food!
There are lots of fancy restaurants in Chicago that might come to mind, like Charlie Trotter's and Tru.  We didn't eat at any fah fah fahncy places, but we did use the ladies room in The Gage!  Does that count?
We had a crowd of people with us and were super busy all weekend, so fine dining wasn't on our agenda.  There really wasn't time to spend on that kind of a meal, and we didn't want to break the bank either.  The weekend was about spending time with Bry, and celebrating his Navy graduation and LilSis' birthday on Sunday.  So where did we eat?  We WERE in Chicago, so we had to check out at least a couple of the foods that Chicago is known for!
What says "Chicago" more than hot dogs and Italian beef?  Our first night in town, we headed for Portillo's.  Portillo's is known for their hot dogs, Italian beef sandwiches (juicy or dry), polish sausages and burgers.  There are close to 50 Portillo's locations now, and all of them are in Illinois and Indiana except for two in California.  This place was crazy!  It was packed with customers eating and two full lines of customers waiting to place their orders.  I couldn't eat much there – even most of the salads are not vegetarian friendly – so I ended up with lettuce and tomato salad, but I really enjoyed the decor and the feel of the restaurant.  And I did sample their french fries: crispy, tender, hot, crinkle fries…delicious!
You can't come to Chicago without having pizza, right?  We headed to Gino's East since there was one close to our hotel in Great Lakes.  The restaurant looks and feels like a pizza joint in any other place in the country, but the pizza is all Chicago.  We loved that we could all get an individual-size pizza (thin or thick crust), plus a salad and a drink for only $5.99.  Not bad!  LilSis got the thin crust, and I wished I had done the same because it was scrumptious. I got their "thick golden crust" since I thought that was more authentically Chicago-like, but it wasn't what I expected.  I imagined a tender thick crust like Uno's, but it was a cornbread crust that I wasn't crazy about.  The toppings were great though; I just should have asked more questions before I ordered.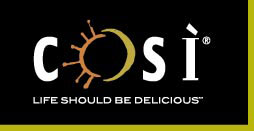 The day that we zipped around downtown Chicago on the double-decker bus tour, we were famished and happened across Cosi as we were leaving Millennium Park.  Our group included all ages and all kinds of eating preferences, and Cosi's menu satisfied us all.
The ambience reminded me of Starbucks, and it's my understanding that Cosi started out as a coffee shop and added food later. It was a good move!  We all loved the flatbread that comes with soups and salads, and is used on sandwiches too.  It's great soft bread untoasted, but when toasted it gets nice and crispy on the outside.  Our group tried the fire roasted veggie sandwich, cobb salad, tomato basil soup, bacon cheddar turkey melt, and the chicken club.  It was all delicious, and affordable.  There are bunches of Cosi restaurants in the Chicago area, but none in Texas.  Boo.  This is my kind of food!
We also ate at a couple of chains that are maybe a little more generic, but still really good.  You can't go wrong with Jason's Deli in a pinch.  Who doesn't love Jason's?  It's another place with a menu big enough and good enough to satisfy pretty much anyone in your group.  I have one near my office and eat their Spinach Veggie Wrap minus the cheese all the time.
At the airport, some of us grabbed a quick sandwich at the Potbelly Sandwich Shop.  I have a Potbelly right down the street from me here in Dallas, but I'd never been there although I've heard it's good.  I wasn't disappointed.  The veggie sandwich on whole-grain wheat bread was excellent, and I love that you can request "Thin-Cut" bread on any sandwich, which gives you 1/3 less bread to deal with.
So there's your quick and cheap tour of Chicago eats.  Overall, it seemed to me that Chicago cuisine is pretty "meaty" and not super-veggie friendly, but it's clear that Chicagoans are really passionate about their food!  We're hoping to visit Bry again in a few months, and when we do, we'll no doubt eat a bunch more and report back on it!

~BigSis