April 27, 2010
When we were on our tour of downtown Chicago last week, we happened to pass Rick Bayless' Frontera Grill on North Clark Street. We all wished that we could stop and eat lunch there but we knew that we didn't have time so we'll have to plan that for another visit. Passing Frontera Grill reminded me that I bought Rick Bayless' Mexican Everyday cookbook sometime last year and have yet to cook a recipe from it.
I decided to browse through his cookbook yesterday to find something to make as a side to go along with the Chicken Enchilada Casserole that I had planned for dinner. And since Cinco de Mayo is only a week away, I thought this would be a great time to try one of his recipes.
I ended up making the Roasted Garlic Dressing with Green Chili. Rick Bayless says that this is one of the most versatile dressings that he makes and that grilled onions and radishes have gone into the roasted garlic-dressed romaine salad at Frontera Grill since the day they opened. He also suggests that it's great on top of a salad of sliced tomatoes and cilantro, which is what I decided to do. This recipe makes about one cup.
This recipe was quick and easy yet had a terrific flavor because of the roasted garlic and chiles. Salad dressing is not the best recipe for photographing, but this dressing was perfect drizzled on top of this tomato and cilantro salad.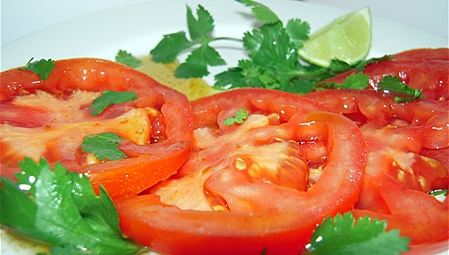 Roasted Garlic Dressing with Green Chile
(from Mexican Everyday)
4 garlic cloves, unpeeled
Fresh hot green chiles to taste (I only used 1 serrano)
3/4 c. olive oil
1/4 c. balsamic vinegar
Salt
Set a small dry skillet over medium heat. Lay in the unpeeled garlic cloves and the chiles. Roast, turning frequently, until soft and blotchy brown in spots, about 10 minutes for the chiles, 15 minutes for the garlic. Cool until able to handle, then slip the skins off the garlic and roughly chop the chiles (no need to remove the seeds).
Combine the garlic, chiles, oil, vinegar and a scant teaspoon of salt into a blender jar or food processor. Process until smooth. Taste and season highly with additional salt if necessary. Pour into a jar and secure the lid. Refrigerate until ready to use. Shake well immediately before pouring out.

~LilSis