May 7, 2010
I LOVE Fridays! Is there anyone out there that doesn't love Friday? For most of us, Friday marks the end of a hard work week and the beginning of a relaxing weekend! Right?
BigSis and I were talking the other day and we decided that since we both love our Fridays, we're going to try something new. We're going to take this day to share with you something that we find to be fabulous. And if it's something extraordinarily fabulous, we may have to call it Fantabulous Friday!
So, to kick it off today, here are a couple of things that I find to be quite fabulous!
Not only is this limited-edition shade, Ever Hip, a perfectly fabulous color for me, but I find the glossy white case to be equally fabulous.
The case is decorated with an exclusively created flower and bird pattern for the MAC Give Me Liberty of London Collection. I don't know what I'll do with the case when the lipstick is gone, but I won't be recycling this one.
This Urban Decay Summer of Love Shadow Palette is nothing less than fabulous! This gorgeous palette was a surprise Mother's Day gift from BigSis that I just received in the mail two days ago and I'm already madly in love with it!

I tried one of these shadows when we went out Wednesday night and I can tell you that this eyeshadow is going to give MAC some competition! This lovely palette came with a fabulous 24/7 Glide On Pencil and travel size Sin Eyeshadow Primer Potion. The mirror and the magnetic cover are also fabulous, so what more can I say?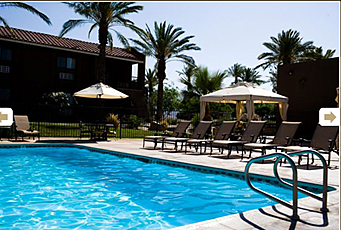 And lastly, today is an especially fabulous Friday for me because this is where I will be today.
We'll be in the desert for a Father Son Golf Tournament and I will be by the pool in the fabulous 'almost 100 degree' weather catching up on some magazine reading while the guys are golfing. I couldn't ask for a better way to spend two days!
I hope you have a Fabulous Friday!

~LilSis