May 18, 2010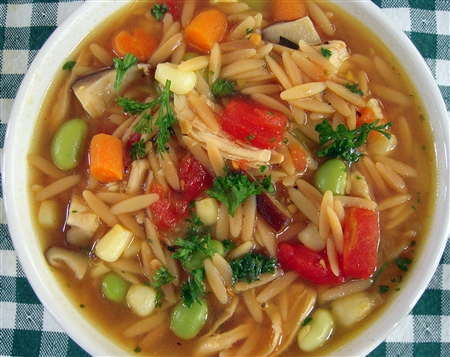 Around this time of the year, there are usually signs of Spring in the air, right? I guess it all depends on where you live because May can bring some strange weather in some parts of the country.  I remember our last year in Upstate New York, it actually snowed on Mother's Day and I had already planted my herb garden. I was not a happy camper. That had obviously never happened to me in Texas. Not that Texas has fantastic Spring weather either; humidity, thunderstorms, hail, tornadoes, you name it.
For us here in Southern California, May and June are the only two dreary months of the entire year. We call it May Gray/June Gloom because for most of the day we're covered in the infamous Southern California "marine layer." So far this month, we've had our fair share of foggy, gray days. We haven't see the sun at all for about four days now.
I'm not complaining, though, I promise! 🙂
You don't have to tell me how spoiled we San Diegans are when it comes to weather; I know it. I consider us extremely lucky to be able to live here where it's perfect weather almost year round.
So, are you wondering why the heck I'm talking about the weather instead of the soup? Well, with no sunshine during the days, we are still having some pretty cool nights here; in the low 50s. That's why I'm still in the "soup making" mode instead of in my Summertime salad mode.
I don't make too many Rachel Ray recipes, but yesterday I was in the mood to make homemade soup for dinner and I didn't want to spend hours making my usual chicken vegetable soup. The dreary gray days can put me in a little bit of a funk and yesterday, I wasn't in an energetic enough mood to start with a whole chicken and have to deal with de-boning it.
I bookmarked this recipe when I first saw it on Taste and Tell because I knew it would come in handy on a night when I wanted to make homemade soup but something a little quicker and easier than some of my recipes.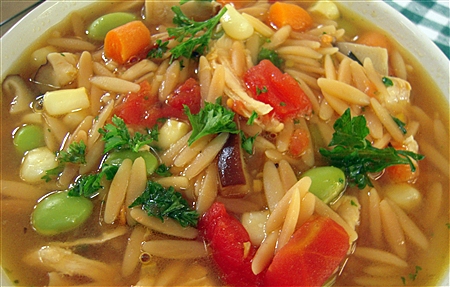 Toasted Orzo Chicken Soup
(adapted from Every Day with Rachael Ray February 2010)
Two 32-ounce containers low sodium chicken stock
1 pound skinless, boneless chicken breast (I used chicken tenders)
2 tablespoons butter
1 1/2 cup orzo pasta
2 tablespoons extra virgin olive oil
1 1/2 c. baby carrots, finely chopped
1 cup sliced Shitake mushrooms
1 shallot, finely chopped
3 cloves garlic, finely chopped
salt and pepper
1 cup frozen edamame
1 cup frozen corn
1 can petite diced tomato
1 tsp. Penzeys Shallot Pepper
1 tsp. low sodium Spike
1/4 cup finely chopped flat-leaf parsley
2 teaspoons grated lemon peel
In a medium pot, bring the chicken stock and chicken to a simmer. Lower the heat and poach the chicken for approximately 12 minutes. (The chicken tenders take a little less time.)
Heat a soup pot over medium heat. Add the butter to melt. Add the orzo and cook, stirring, until deeply toasted, 3 to 5 minutes. Transfer to a plate.
Add the olive oil to the soup pan. Add the carrots, mushrooms, shallot, and garlic; season with salt and pepper. Cook, stirring occasionally, until the vegetables are softened, 7 to 8 minutes. Return the orzo to the pot.
Remove the chicken from the stock. Skim and discard the fat from the stock; transfer the stock to the soup pot. Chop, dice or shred the chicken and add to the soup with 2 cups water. Bring the soup to a boil and cook until the orzo is just tender, 5 minutes. Add the edamame, corn, and tomatoes during the last minute of cooking. Turn off the heat; stir in the parsley and lemon peel. Serve immediately.
Notes: I made several changes to the original recipe, but that's why I love soups, they're easy to adjust according to your own taste. I doubled the liquid and the orzo because I knew the original recipe would not be enough for my big eaters. I also added some extra garlic, eliminated the zucchini and used edamame instead of peas and added some diced tomatoes and mushrooms. And I had to add Shallot Pepper and Spike like I do in every soup recipe that I make.
My version didn't turn out very soupy because the orzo really absorbs most of the liquid, but it didn't matter, we all loved it anyway. It was more like a big bowl of pasta instead of a bowl of soup! And, I'm so glad that I decided to leave in the lemon zest. I've never added lemon zest to a soup before and I almost eliminated it, but it really did add such a fresh, great flavor to this soup!

~LilSis