June 8, 2010
I love those pale pink colors that BigSis just shared with us from the new OPI Pink Collection. I have a hard time keeping polish on my fingernails, so if I wear anything at all, it's always a clear or a very pale pink polish.
I may go bare or ultra sheer on my fingernails, but not on my toes!  I get bored really quickly with the same colors on my toes so I'm always trying something new; from blues, greens, yellows, bright oranges to very dark purples.
I also couldn't find the Essie Resort Collection at my local Ulta and I was in a funk on Friday and really wanted something to cheer me up.  I popped into my neighborhood nail salon and asked her what she had that was new and blue.
I absolutely fell in love with the OPI Ogre-The-Top Blue shade from the minute I saw it and I knew that I wanted to try it.
I was even happier when I got home to discover that it matches my new swimsuit perfectly!
Funny… I couldn't have even done that if I had tried. 🙂
I really liked the color with the pink strappy sandals that I wore to my Girl's Night Out on Friday night.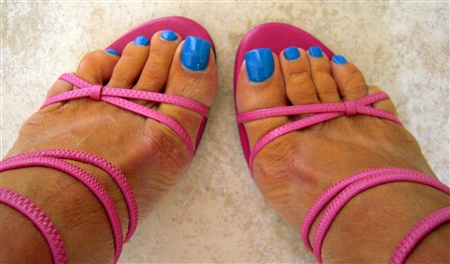 But I love the color even more worn with my white Franco Sarto bejeweled sandals.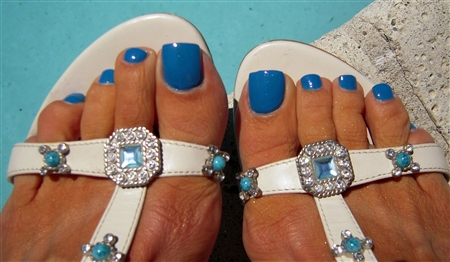 Is it just me or doesn't a good pedicure just cheer you up a little bit?

~LilSis