July 11, 2010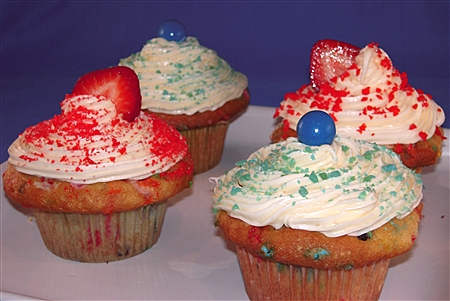 I didn't even know that they still made Pop Rocks until a few weeks ago when a friend of ours brought them out at the end of a party. (Yes, we tend to get a little silly sometimes.) These little popping candies bring back some fond childhood memories for me so when I stumbled across Noble Pig's Firecracker Cupcakes recipe with Pop Rocks, I knew that I would be making them soon.
By the way, Noble Pig's Firecracker Cupcakes garnished with blueberries and raspberries are the most gorgeous cupcakes that I've ever seen!
I made my simpler version, Funfetti Firecracker Cupcakes last Sunday for our 4th of July Party but in all the excitement of getting ready for the party, I didn't get photos taken of that batch. So, I decided to make them again since these fun cupcakes don't have to be made exclusively for the 4th of July. They could bring a bang to any holiday or birthday celebration.  What kid doesn't get a kick out of of Pop Rocks? (And most adults love them, too!)
Note: I don't do a lot of baking from scratch, so this is my easy, breezy, simple way to make these cupcakes.
Funfetti Firecracker Cupcakes
(adapted from Noble Pig)
One Pillsbury Funfetti Cake Mix
3 eggs
1/3 c. oil
1 c. water
Pillsbury Whipped Supreme Cream Cheese frosting
One 1.75 oz Betty Crocker Rainbow Mix sprinkles
Assorted colors of Pop Rocks
Various candies or fruit
In a large bowl, add the cake mix, eggs, oil, and water and mix for two minutes on low mixer or whisk by hand for two minutes. Fold in the candy sprinkles. Line cupcake pan with baking cups and fill with batter. Bake at 350 degrees until done. If the cups are filled 2/3 to the top, the cupcakes should take 18-22 minutes. Remove from oven and let cool completely before frosting.
I prefer to fill the baking cups almost all the way to the top so they take between 22-25 minutes or until an inserted toothpick comes out clean.
I could actually enjoy one of these cupcakes just like this without the frosting, but decorating these cupcakes is where the fun comes in!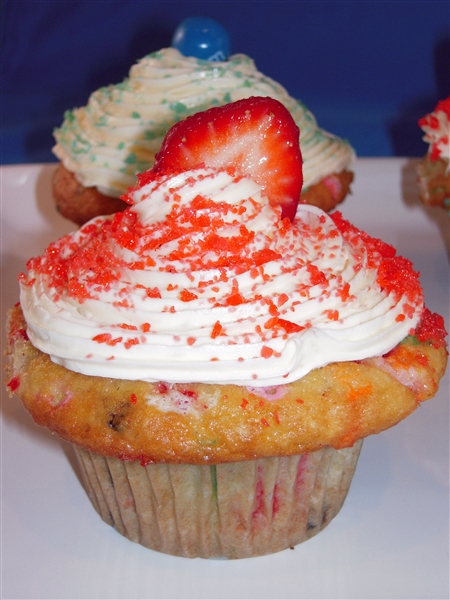 Frost the cupcakes or pipe on the frosting as I did and then sprinkle the tops with various flavors of Pop Rocks. I found a variety pack at Walgreens that contained one of each flavor: Strawberry, Watermelon, and Tropical Punch.
(I thought the Watermelon flavor in the green packet would turn out to be green Pop Rocks, but they were also pink like the Strawberry flavor.)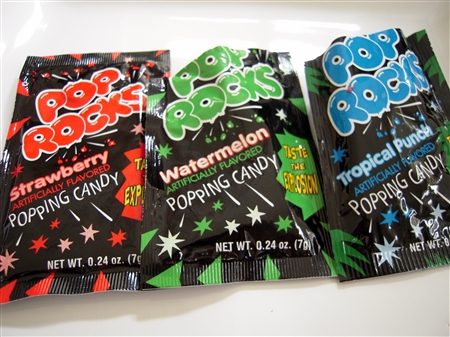 To achieve a good firecracker effect, sprinkle the Pop Rocks on just before serving. The moisture is what makes the candies pop, so they will start popping immediately.
How's this for a big teenage boy bite?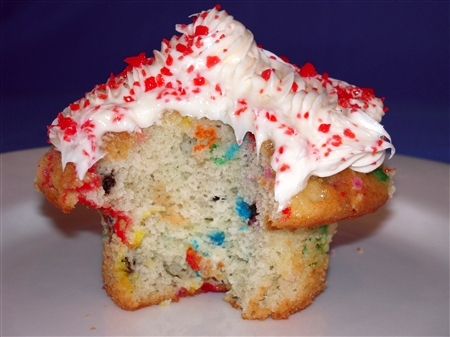 It's like a little party of explosions going off in your mouth!
Later this week, I'll be sharing with you another fun Pop Rocks recipe. Ever tried a cocktail beverage with Pop Rocks?

~LilSis