August 12, 2010
Being single and eating my biggest meal of the day before noon, it's really easy for me to skip dinner or to just have a handful of almonds.  I try to eat intentionally though, and skipping dinner doesn't set me up for a very energetic morning.
I have a solution that works for me, even in the summertime when you don't automatically think of something warm.  How about a one-pot stew/soup dish that's inexpensive, nutritious AND super speedy?  I got it for you.  It's so simple, I don't even need to give you an official recipe; I can just tell you how to do it in a few words.
Take 5 cans from your pantry, and don't feel bad that you're using cans!  You need a big can of fire-roasted tomatoes (diced or crushed), a small can of diced fire-roasted tomatoes with green chilis (similar to Rotel but I think much better!), a can of green beans, a can of red kidney beans and a can of corn.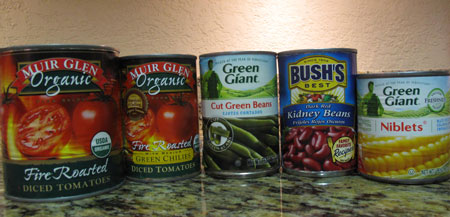 Open all the cans, and dump both tomatoes into a large saucepan and turn the meat to medium.  Fill the small can with water and add that.  Then add whatever mexican seasonings you like to the tomatoes and simmer for few minutes.  I used garlic powder, cumin, chile powder, dried cilantro, shallot pepper, salt and a touch of dried chipotle.
Bring the tomatoes to a boil, and then add the drained corn and green beans, along with the kidney beans that have been drained and rinsed.  You don't want that nasty bean juice.  Heat until the vegetables are heated through.  Voila!  You're done!
I like to serve my stew with dairy-free cheese (Daiya) and sour cream (Tofutti).  My diced tomatoes with chilis were pretty potent so I didn't even need any Frank's Red Hot Sauce!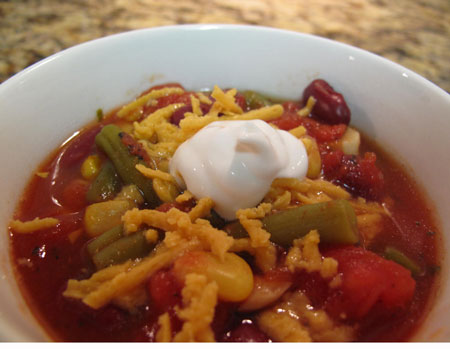 In this one bowl, you get nutrients from the veggies, plus protein from the beans that will keep you full for a good long time.  Use whatever veggies you have, and feel free to add other goodies like mushrooms, onions, and chili peppers.  Hatch chilis are almost in season and they would be incredible in this.
I'd say this is a much better dinner than a few sorry nuts!  😀

~BigSis