August 19, 2010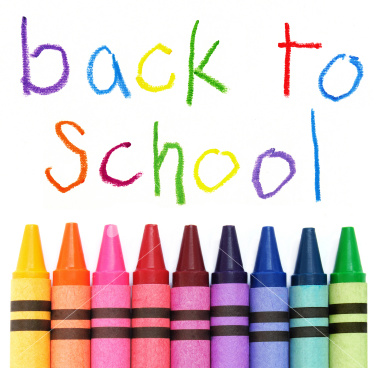 This time of year is really hectic for most of us moms; on top of normal chores, we're clearing our kids' closets and drawers of clothes that no longer fit, shopping for new clothes, school supplies, backpacks, and trying to stock the pantry with all the goodies needed for breakfasts, school lunches and/or after school snacks.
I do LOVE shopping for school supplies; the whole excitement of it brings back fond memories for me and I sometimes wish that I was still buying pencil boxes and crayons, but I won't delve into my obsession with school supplies today. Instead, let's talk about making sure we have what to need to assure that our kids start out each morning with a healthy breakfast.
I don't have little ones in elementary school or middle school any more and I really miss those mornings when I used to pack the kids' lunches and put little surprises or notes in their lunch sacks. Since those days are long gone for me and my high-schooler won't take a sack lunch anymore, it's more important than ever for me to make sure he has a good breakfast before he leaves every morning.
I've always tried to make sure that my kids don't start the day on an empty stomach or with something sugary. Both can lead to problems with blood sugar levels and make it hard for the child to concentrate during school.
For adults, eating a healthy breakfast also has tremendous health benefits, but specifically here's what Mayo Clinic says about the benefits for children.
Benefits for children

Breakfast is especially important for children and adolescents. According to the American Dietetic Association, children who eat a healthy breakfast are more likely to:

Concentrate better
Have better problem-solving skills
Have better hand-eye coordination
Be more alert
Be more creative
Miss fewer days of school
Be more physically active
My family would probably tell you that I sound like a broken record when I say "You know that breakfast is the most important meal of the day."  I wish I had a dollar for every time I've said that.
Obviously on those early morning school days, breakfast needs to be quick, and most importantly, a healthy combination of whole grains, low fat protein, low fat dairy, and fruits and/or veggies.
Here are a few of my favorites.

Oatmeal with fruit and almonds. (To me, this is a perfect breakfast.) I like the McCann's Quick Cooking Irish Oatmeal but Quaker Oats Quick One Minute Oats is also a great choice. The Quaker brand actually has one more gram of fiber and protein than McCann's. After cooking the oatmeal, I add some cinnamon and top with blueberries or sliced banana and sliced almonds.

Scrambled eggs or egg beaters with 2% cheese in a whole wheat tortilla. It's so quick and easy to make a great breakfast burrito. If your child is open to it, add just a little fresh chopped spinach when you scramble the eggs. (This can even be done in the microwave.)  Then put a little grated cheese on top, scoop into a tortilla and roll it up. I buy a low sodium ham from Trader Joe's that I sometimes add to this.

Fresh fruit salad.

I make fruit salads all the time and both my guys love it for breakfast. Have your berries and grapes washed ahead and if adding pineapple, it's quicker if that's cut up the night before. We like blueberries, strawberries, pineapple, bananas, grapes, mandarin oranges, and pears, but you could use any of your child's favorite fruits.

Whole wheat or multi-grain bagel.

We are really liking the new Thomas' Bagel Thins. The Whole Wheat ones are great but the Everything Bagel Thins are our favorite. These toast great and aren't as heavy as a regular bagel. They're perfect with just cream cheese or even better as a breakfast sandwich with an egg and a piece of healthy ham and low fat cheese.




Yogurt with berries and granola.

We also love yogurt at my house for breakfast. I mostly buy the Trader Joe's brand and instead of granola, I sometimes toss in some Kashi Heart to Heart cereal.

Eggo Nutri-Grain low fat waffles. It doesn't get much easier than this.  These frozen waffles are quite good; I have one most mornings after my yogurt and fruit.  I try to find something other than syrup to offer with a waffle and I've found that these are great with a little almond butter spread on top.

Banana and granola bar.

If your child is running late and insists that he/she doesn't have time to sit down for breakfast, then stick a banana and a granola bar in their hand on the way out the door. It's definitely better than a Pop Tart. There are many nutritious choices for granola bars these days. My favorites are the Peanut Butter Nature Valley Crunchy Granola Bars.



All of these choices take five minutes or less to prepare and when served with a small glass of low fat milk and/or orange juice, it'll jump start your child's day and allow them to get through the morning with enough energy to last them until lunchtime.

~LilSis