September 15, 2010
A while back, LilSis showed us how much Urban Decay Primer Potion is left inside the cute little genie bottle even after you think it's empty.  I heard from an Urban Decay rep at Ulta one day that the owner of Urban Decay was committed to her purple genie bottle even though lots of us girls are grumbling about the waste it causes.  Her solution was to give us a bent wand, which may work a bit better but lots of us are still grumbling.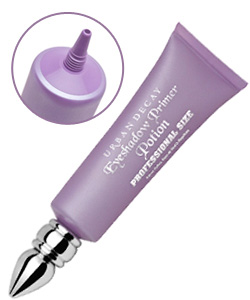 Guess what, we now have a breakthrough!  Urban Decay Primer Potion in a tube!
For $29, you get .85 oz of Primer Potion, compared to .34 oz in the genie bottle for $18.
I can't wait to grab a tube of this.  I apply the Primer Potion with my ring finger anyway, so the applicator isn't necessary in my world.
Lest we forget, let me take this opportunity to remind you how much I love Urban Decay Primer Potion.  I've tried several primer products, and this is my absolute favorite, hands down.  Why?  A normal day in my life is why:
Makeup application with Urban Decay Primer Potion at 6 am
8 hours of stressful work
Errands in 100 degree temperatures with 100% humidity
Makeup removal at 10 pm: eye shadow is still perfectly intact!  No creases.  No fading.  Voila!
Bonus: this is a vegan product.  No animal testing, and no animal-derived products.
Run, don't walk, to get your tube.  Just don't get in my way!

~BigSis