October 16, 2010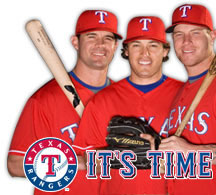 We don't talk much about sports here on BigSisLilSis, but there is no way that I can let this historic moment pass without mentioning it.
LilSis and I moved to Arlington in the late 60s with the whole fam damily, so we grew up there.  Texas and Arlington are home base to us, even though I'm in Big D and LilSis is in California now.
Now, after 39 years, our Texas Rangers have won their first playoff series, AND their first playoff game at home!  It's finally happened!  Yes yes yes!  And this week, we're competing in the 2010 ALCS playoffs against the New York Yankees.
We know that the Rangers have had some tough years and haven't always had a superior team, but this year they do and we're thrilled and proud about that.  They play as a team without a bunch of diva drama, and it has taken them far…this far!
Not everyone is so happy about the Rangers' visit to Playoff Land though.  Filip Bondy of the New York Daily News is a little less than joyous about it.  Check out this gem from Mr. Bondy:
All they've ever had was Nolan Ryan, and they've ridden him like an urban cowboy on a mechanical bull.
Ryan's no-hitters aside, this ALCS represents one of sports' great historical mismatches, 40 pennants versus zero. The Yanks should win this series just by throwing their pinstriped uniforms onto the field and reading from a few pages of The Baseball Encyclopedia.
Oh, ouch, Filip!  That's a touch harsh and – I'm not gonna lie – it stings a bit!  You're certainly entitled to your opinion, and there is no disputing the Yankees' record.  There is also no question that the Rangers are the underdogs in this scenario.
After two games though, each team has won one game each.  Each side has made some errors, and each has had some incredible moments.  It doesn't seem like such an unbalanced match-up to me at this point.  The Yankees took the first game 6-5 and the Rangers won the second 7-2.  I'm not a sportswriter though, so what do I know. 

Even if our Rangers don't win another game in this series – which would be a real bummer – we're absolutely proud of what they've accomplished.  We're proud of how they're playing the game, and we're proud of how they're conducting themselves as men.  What more can you ask?
Ok, well, to be completely honest, it would be nice to beat the Yankees and go to the World Series!  But let's not get ahead of ourselves here.  Let's just enjoy the moment we have.
Excellent job, Rangers!  You've made these old Arlington girls proud!  Now, play ball!  It's time!!

~BigSis