November 1, 2010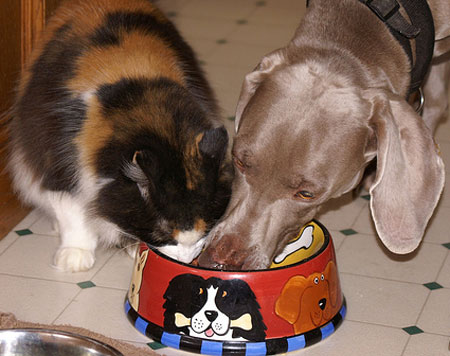 Did you know that November 1st is officially Cook for Your Pet Day?  Yesterday, we humiliated them by dressing them up in costumes to amuse ourselves, so I guess it's only fitting that we cook for them today to apologize!
I've never cooked for my cats before, and don't really want to since they're meat-eaters and I'm vegan.  I'm not going to try to veganize them since they're carnivores by nature, but I can't see myself cooking up a big ol' batch of meaty goodness for them.  I love 'em, but I gotta draw the line somewhere!
If you, however, are a more selfless person than me and have the urge to cook today for your furkids, here are some ideas for you:
Dog food and treat recipes from www.thepoop.com
On a very serious note, if you plan to cook for your cats beyond occasional treats, please do your research before considering feeding them a homemade diet.  They have very specific nutritional needs, including a necessity for the amino acid taurine, and neglecting these nutrients can result in illness and even death.  Vetinfo.com can get you started with the basics on essential feline nutrition, but talk with your vet and don't underestimate the importance of your kitty's needs!

~BigSis