November 3, 2010
A couple of weeks ago I made a Cowboy Beans recipe from "Rick Bayless' Mexican Everyday" Cookbook for a big potluck birthday party. It was my first time making the recipe and even though it was pretty simple, the beans were a big hit! I'll have to make them again soon and share the recipe.
A couple of ingredients in the bean recipe gave me an idea to try something different with my chili recipe for our annual chili cook-off, which was held this past weekend. The past two years my recipe has come in 3rd place but this year I wanted to kick it up a notch to see if I could beat out my rival 2nd place winner. And I'm happy to announce that out of 15 entries and 51 ballots, this chili recipe did bring home the 2nd place prize.
Smoky, Fire-Roasted Chili with Bacon
12 oz. pkg apple-smoked thick cut bacon, chopped into pieces
2 shallots, finely chopped
4 cloves garlic, minced
(2) 14.5 oz cans fire-roasted diced tomatoes
1 large onion, coarsely chopped
4 lbs. lean ground beef
14.5 oz can regular diced tomatoes
2 roasted and chopped Serrano peppers (with seeds)
1 roasted jalapeno pepper, chopped (with seeds)
16 oz. bottle dark beer
14.5 oz can tomato sauce
14.5 oz can dark kidney beans
14.5 oz can white kidney beans (or cannellini beans)
1 c. sweet corn (frozen or canned)
6 t. Penzeys Chili Con Carne Seasoning
2 t. Penzeys Smoky 4S Special Seasoned Sea Salt
2 t. Penzeys salt-free Arizona Seasoning
1 t. cayenne
1 t. cumin
In a large heavy-bottomed pan over medium-high heat, cook bacon, stirring until it begins to brown, about 4-5 minutes. Drain off fat, add the chopped shallots, reduce heat to medium and cook for another 4-5 minutes, stirring occasionally. Add the garlic, reduce heat to medium low and stir for another 2-3 minutes. Add the fire-roasted tomatoes with their juices and simmer another 10 minutes or so to blend the flavors.
(Note: Even though I use a lean beef, I brown the beef in a separate pot so I can drain the fat, instead of just adding the beef right into bacon and tomato mixture.)
In a separate large heavy-bottomed soup pan over a medium high heat, begin to brown the beef. Once the beef is almost browned, add the chopped onion and continue to cook until onions soften and beef is completely browned. Drain the fat. Add diced tomatoes and cook for 5-10 minutes over medium-high heat then add tomato sauce, beer and Serrano peppers. Simmer for about an hour and then add the bacon and fire-roasted tomato mixture, beans, corn and spices. Adjust seasonings to taste.
I made mine the day before and chilled in the crockpot overnight. When I reheated it, it was a little thick for my taste so instead of water, I added another bottle of beer. Voila!
(The extra bottle of beer is not listed in the recipe because you could use water to thin the chili, if desired.)
This chili definitely has a bit more heat to it than my normal Chili Con Carne recipe, but it wasn't overwhelming. You could use less peppers or none at all if you like a milder taste. Serve with warm cornbread for a complete meal or put out a selection of toppings such as grated cheese, sour cream, jalapenos, and Fritos.
(Note: Even though most of my spices are Penzeys brand, it's not absolutely necessary. The 4S spice contains Smoky Paprika and Seasoned Salt so those could easily be substituted for the 4S; and the Chili con Carne spice is a mixture of chili powder, cumin, garlic, and oregano.)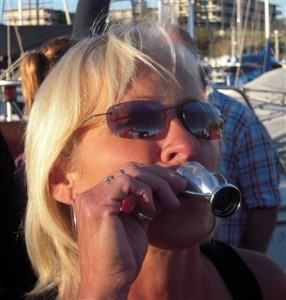 Half the fun of making your own chili is adjusting the spices to your own taste, right?
We had a great time with great friends at our annual chili cook-off!
Just for the fun of it, I'd thought I'd share a photo of me having a toast with my teeny, tiny, trophy!

~LilSis