November 13, 2010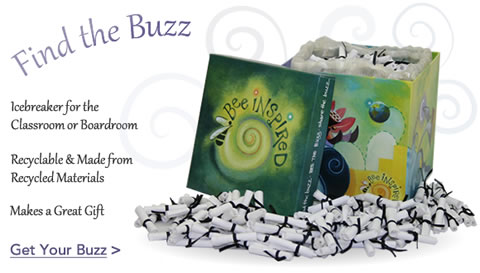 "Feeling gratitude and not expressing it is like wrapping a present and not giving it."
~William Arthur Ward
I found out about these lovely boxes of quotes from Bee Inspired in the November, 2010 issue of Whole Living. I've always had a love for inspirational quotes. I've got a stack of books that are filled with quotes and I've found that it really helps me start my day off on a positive note to read something inspirational and uplifting first thing each morning.
I love that each of these beautiful boxes contain a year's worth of daily inspirational messages that are each hand rolled and hand tied into a small scroll. The boxes of quotes, which come in several different themes, such as Marital Bliss, Success, and Motherhood, start at $29.00 and would make a perfect gift for a special person in your life.
Here's the story about how Kristen Novak was inspired to create these beautiful boxes full of quotes. 🙂
When I learned from my sister, Kelly, that her newborn child was diagnosed with Down Syndrome, I was at a loss as to how I could help her during this transitional time. We had always been close at heart, but now the distance between Saginaw, Michigan and Chicago, Illinois seemed worlds apart.
I desperately wanted to be there to give her daily hugs and support. That is when the idea of sending an "inspirational quote a day" was born. It was my way of being there to give her a "pick me up" when I could not, delivered exactly when she needed it most.
My love for inspirational quotes and the way they positively affect people's lives inspired me to create a box filled with these treasures. After carefully selecting quotes to be shared with my sister, I individually hand rolled and tied each scroll with raffia. Then, I placed them in a custom designed box. Now I had a gift uplifting to the soul and beautiful to the eye!
This gift helped bridge the miles between us and let her know I was always with her at heart.
My hope is that this gift will inspire you and you might reach out and share the buzz with others.
Hugs and Smiles,
(Note: Bee Inspired donates a portion of the proceeds from the signature gift box sales to the National Down Syndrome Society.)


~LilSis