November 21, 2010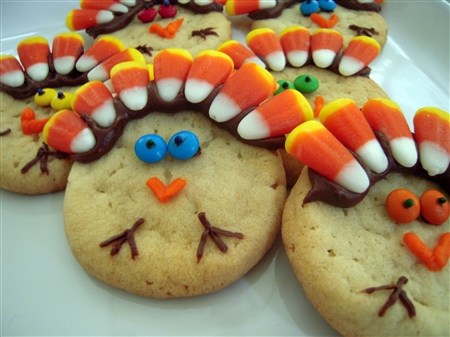 Here's a quick and easy Thanksgiving dessert that's a fun one for the kids. I recruited my 17 year old to help with the eyeballs.
BigSis mentioned this recipe for the Thanksgiving Turkey Cookies a couple of years ago but I never got around to making them until now. We're celebrating Thanksgiving this year with a group of friends and I thought these cookies would be something a little different to take to the gathering.
As I've mentioned before, I'm not the baker in the family and I'm not particularly fond of baking from scratch so I love that you just use refrigerated cookie dough for this recipe.
Thanksgiving Turkey Cookies
(recipe adapted from Pillsbury)

1 roll Pillsbury refrigerated sugar cookies
1 container (16 oz.) chocolate creamy frosting
candy corn
orange decorating icing
Miniature M&M's
Tiny black or blue nonpareils
Heat oven to 350 degrees. Bake cookies as directed. Cool completely, about 20 minutes.
Spoon chocolate frosting into resealable plastic baggie and seal bag. Cut a small hole in the bottom corner of bag. On each cookie, pipe frosting on outer edge of half of cookie. Arrange candy corn over frosting for feathers.
Pipe orange icing onto each cookie to resemble turkey face and brown icing for the feet. Use a small dot of icing to attach the M&M's to the cookie for eyes and to dot on a tiny nonpareil for center of eyes.
These little guys were actually pretty fun to make! 🙂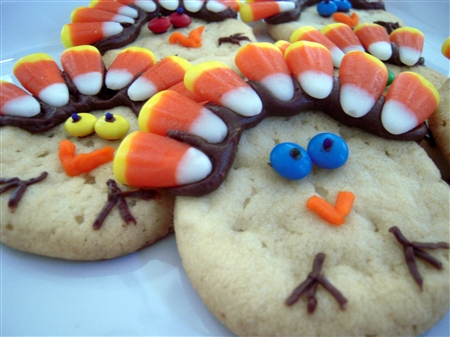 (Note to BigSis: Here's a turkey that even a vegetarian can eat! ) 🙂

~LilSis