December 8, 2010
This December 13th will be our 4th charity bake sale, and the 3rd one we've done at Christmas for the SPCA of Texas.  Since I stopped eating and using eggs and dairy products this last January, I needed to find some great new recipes for this year's sale.  We've been blessed with great success and happy customers that return year after year, so scrapping all of my old recipes and starting over was a daunting proposition!  I was especially motivated to find some fabulous goodies after a hater told me I'd be disappointed because no one would buy "that vaygan stuff"!
I bought several vegan baking cookbooks and did a lot of online research, and finally swooped into the kitchen to get my hands dirty.  I've been baking up a storm in my lab (aka kitchen) for the last several weeks, trying out new recipes.  The latest test: Oatmeal Dried Cherry Cookies adapted from Veganomicon: The Ultimate Vegan Cookbook
.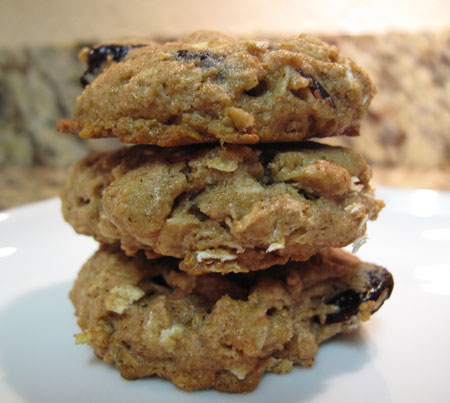 These cookies had a great flavor, and would have been excellent if I hadn't over-baked them by a couple of minutes.  That's why I test though.  I have a rule that I never make a recipe for the bake sale without taking it for a test drive first.
I'm pretty excited with the successes I've had.  I actually have well over a dozen things to choose from.  These are my favorite options.
Chocolate Chunk Oatmeal Coconut Cookies adapted from Epicurious
Peanut Butter Chocolate Chip Cookie with Peanuts and Almond Meal adapted from Cookie Madness
There's much more baking to be done so I'm dashing back to the kitchen for more baking frenzy.  I'll be back next week with photos from the sale, and hopefully a big donation to the SPCA to report!

~BigSis