December 22, 2010
I've got a question for you. Do you think gift cards are thoughtful or lazy?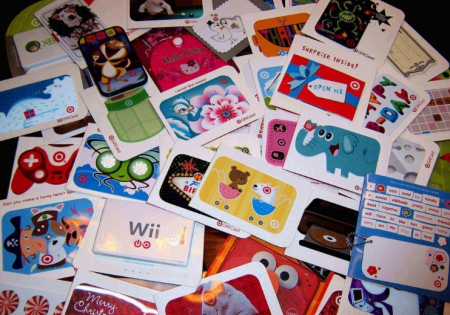 It seems like opinions are split on this one; but I think gift cards can be a thoughtful gift. Granted, I'm not talking about someone that spends ten minutes to run into the grocery store at the 11th hour and without any thought, just buys every person on their list a Visa gift card.
With the selection of gift cards available in the stores this year and with just a little consideration about who you're buying for, I think gift cards can be a great gift.
For very young children, it's usually more fun for me to choose a gift for them versus give a gift card, but I recently discovered that you can buy

Build a Bear

gift cards! I LOVE that idea for younger kids.
Once kids reach a certain age, I think a Toys R Us gift card is perfect. I know my kids always loved taking a trip to the toy store with a gift card in hand.
For new parents, I know they love receiving Babies R Us gift cards. It allows them to get anything they need for the baby, from clothes, toys, to diapers or formula.
For the techno teenager, I think Best Buy or

Target

gift cards are great choices, and of course, my teenager still loves receiving iTunes cards.
For the "hard to buy for" guy who seems to have everything, how about a Dick's Sporting Goods, Golfsmith,

or

Bass Pro

gift card?
For someone who can't get out to shop or someone who lives too far from good retailers, you can always go with a

QVC

or

HSN

gift card.
A Bed, Bath, & Beyond or Target gift card is perfect for someone who is about to move into a new home or it just redecorating a bedroom or dorm room?
For women, like my sister and I, who love our lotions and potions, we adore L"Occitane,

Origins

, Bliss World, and

Sephora

. We're easy to please!
Most of these gift cards can even be purchased now as an e-gift card in case you're really running behind and need to print off the gift card right away.
To make it super simple, you can go straight to Amazon to purchase a variety of Gift Cards
from a huge selection of different retailers. How easy is that?
I happen to love giving and receiving gift cards. I'd much rather give someone something that I know they will use versus possibly buying them something that ends up in the back of a closet.
I love finding an Amazon or Barnes & Noble gift card under the Christmas tree! Then, I just go straight to my "wish list" and pick something out that I may not have otherwise bought for myself.
What about you? Do you like receiving gift cards? Do you like giving gift cards?

~LilSis