December 23, 2010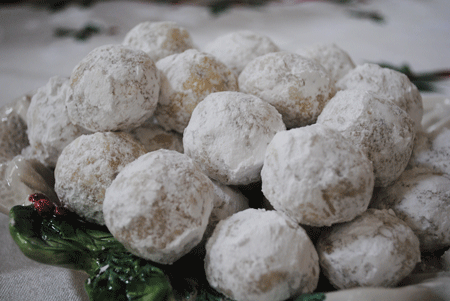 For many years, our kids would wait, with much anticipation, for the tin of Grandma's cookies to arrive in the mail right before Christmas. Without fail, every year, until she wasn't able to do it anymore, my mother-in-law would mail a gorgeous tin full of a beautiful assortment of homemade Christmas cookies to each of the grand-kids.
Everyone had their favorite, so if you wanted one in our household, you had to be quick! One year, our beloved, SarahGirl (1/2 Lab & 1/2 Great Dane) decided that she wasn't going to wait for her cookie. The tin arrived as we were dashing out the door one day, so we quickly put it under the tree, not even thinking that the dog could possibly get into it since it was taped shut.
Yet, when we arrived home, we found that SarahGirl had somehow managed to remove the tape, open the tin and devour every single, ding, dang, last cookie!  (Shhhh… we never could bring ourselves to tell Grandma about the incident.)
Her Snowballs were always my favorite!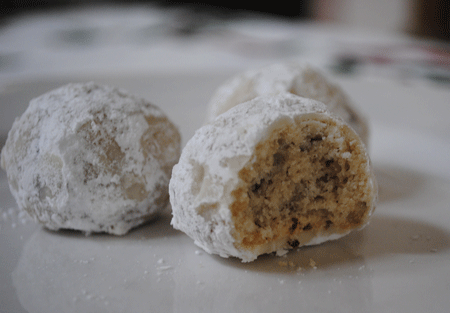 My Mother-in-law gave me this beautiful Fitz & Floyd Santa Plate about 15 years ago and ever since then, it's been the plate we've used to leave cookies for Santa on Christmas Eve night.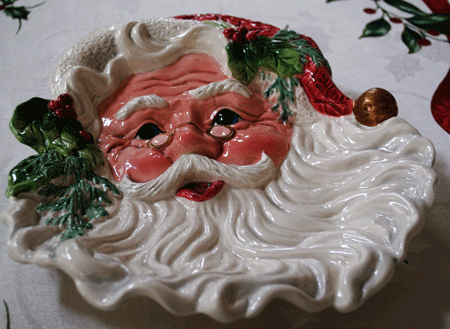 Tonight, I'll be serving the Snowballs on it for a Christmas get-together we're having with a few friends.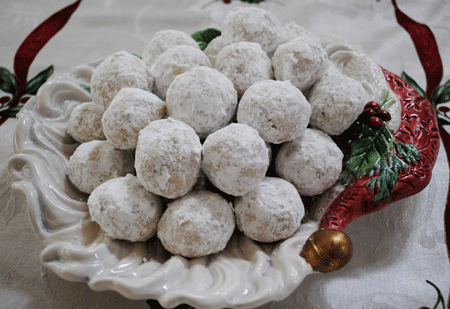 Snowballs
1/2 lb. butter, at room temperature
2 c. flour
1 c. chopped pecans
1 t. vanilla
1 c. powdered sugar
Preheat oven to 350 degrees. Cut the butter into small pieces, place in a large mixing bowl and gradually add the flour, the pecans, then the vanilla, combining all with your hands.
Form the dough into walnut size balls and place on a cookie sheet about an inch apart. Bake for 18 – 20 minutes, just until the bottoms are slightly brown.  Let cool for 5  minutes, then roll in the powdered sugar. Once completely cool, dust again with powdered sugar.
(Before I made these, I did a little browsing online and I did find quite a few variations of this recipe. Some have salt, sugar and even eggs in the dough but I decided to stick to my mother-in-law's recipe.)
The good news is that when my hubby tried one, he said they were perfect and tasted just like his Mom's. In my house, that's the best compliment I can receive.

~LilSis