December 29, 2010
I wasn't quite as productive as BigSis on the day after Christmas, but I did manage to clean up the last of the aftermath from a huge party on Thursday, sort through all the wads of gift wrap, gifts bags, and boxes strewn all over the living room floor from Christmas Eve night, and finish up the remaining leftover dirty dishes from Christmas Dinner.
I figured that was enough for one day, so I did nothing really productive for the rest of the day, except for beating the guys in a couple of games of Wii bowling. (They can't stand the fact that I still hold the record for best game!)

No one has yet to beat my 289!
Here"s my lil Mii, the Pro.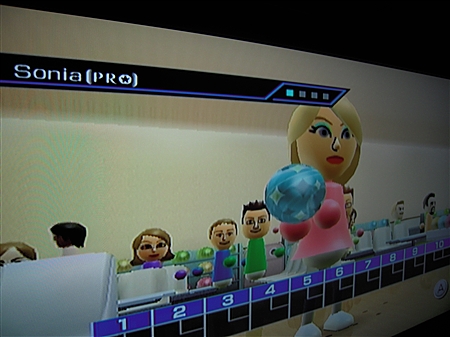 And, I can't wrap up Christmas without sharing a couple of Santa Hat shots!
So, now that Christmas is behind us and the New Year is fast approaching, I've spent some time the past couple of days reflecting on what all has happened and changed for us during this year. Like a lot of people, 2010 was a tough year for us so I'm looking forward to saying goodbye to 2010 and welcoming 2011! I'll be back in a few days to officially wrap up the year.

~LilSis