February 1, 2011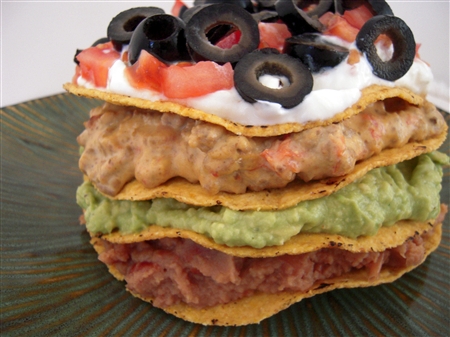 Whenever there's a big football game on, the two most requested dips from my guys are the classic Velveeta & Rotel dip or our version of the seven layer dip.
Last week during the Bears game, they 'drown their sorrows' over the Bears loss by chowing down on a big bowl of Velveeta dip with some Scoops Tostitos and Fritos.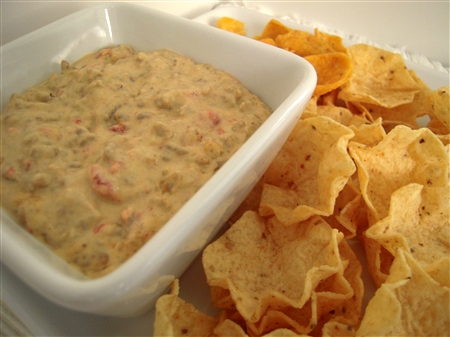 Just in case there's anyone out there who's never made the Velveeta & Rotel dip, it's super simple.
Velveeta & Rotel Dip
1 32 oz. box Velveeta, cut into small cubes
1 10 oz. can Rotel diced tomatoes with green chilis
1 lb. lean ground beef
You can do this on your stove top, but it's easier to keep warm by doing it in a Crockpot. Start by turning the Crockpot on low, add the cubed Velveeta and the can of Rotel tomatoes. In the meantime, brown the beef and once it's done, drain the beef and add to the Crockpot. Stir well to mix in the beef and stir occasionally until the cheese is completely melted and the dip is hot.
Serve immediately or keep warm in a Crockpot on low heat.
For the Super Bowl, I thought it might be fun to combine the two dips and make a super duper tostada using the Velveeta Dip as one of the layers, instead of the grated cheese. And, instead of piling each ingredient on top of each other as you do in the seven layer dip, I decided to add a tostada in between each.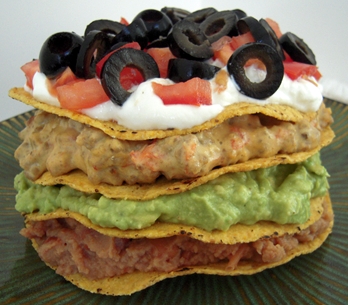 Super Bowl Super Tostada
One bag tostadas
One 16 oz.can refried beans or Frito's Bean Dip (your preference)
Homemade guacamole (mine is just avocado, lemon, garlic powder & lemon pepper)
Velveeta Rotel Dip
Sour Cream
Tomatoes, chopped
Sliced Black Olives
Prepare your guacamole and the Velveeta Rotel Dip. Put the  tostadas in a 300 degree oven just to warm for a few minutes. Warm the refried beans, if desired, and just put together by layering the ingredients; starting with a tostada, beans, tostada, guacamole, tostada, Velveeta dip, and top the last tostada with the sour cream, tomatoes, and black olives.
This recipe should make 3-4 tostadas depending on how much of each ingredient you put on each tostada. You'll definitely have some Velveeta dip leftover to serve along side some chips if you make the full recipe of the dip for these tostadas.
I've got "big eaters" in my house so you can see that I piled mine on pretty thick. Do you think they'll need a fork? 🙂

~LilSis