February 8, 2011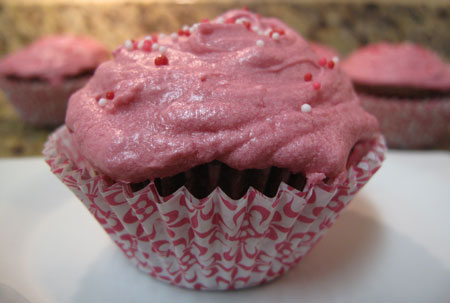 You know that age-related memory loss that some of us get?  We forget names and appointments, and sometimes, even simple everyday words evade us.  For some reason, I can't remember the word Pomegranate to save my life these days.
99% of the time I try to come up with Pomegranate, what my brain gives me is Pomeranian.  It makes no logical sense, but in my mind, these little pink guys have been called Pomeranian Cupcakes more often than they've been called Pomegranate Cupcakes.  Sorry cute little yappy doggies, you know I'd never make cupcakes out of you!
But forget what I call these; you should call them delicious! Hannah Kaminsky calls them Pomegranate Ginger Cupcakes in her book My Sweet Vegan
.  I successfully baked a bunch of things from this book for our SPCA Bake Sale last December, so I thought it would be a great source for a Valentine's Day treat.  I'm not a fan of crystallized ginger so I left it out of the cupcake batter, and I also omitted the ground ginger in the icing.  I didn't miss it a bit.
This was a super-easy recipe, and I loved that it used 2 cups of the uber-healthy Pomeranian juice.  I mean Pomegranate juice, of course!  Everybody knows you can't juice a Pomeranian! 😀
The color of the cupcake looks a bit off in the photo, but these were really tasty so don't let that discourage you from making them.  They were moist and really flavorful!  Half of the POM juice was reduced to a syrup and drizzled over the unbaked batter, and it turned into a nice gooey tangy unexpected treat at the bottom of the cupcake.
I ad-libbed the icing with a stick of Earth Balance and powdered sugar and a bit of tart cherry juice, since I'd exhausted my supply of POM juice.  With a dash of good vanilla and some pink food coloring, the icing was finished.
Make these for your sweetie this Valentine's Day!  And remember, they're Pomegranate Cupcakes!

~BigSis