March 3, 2011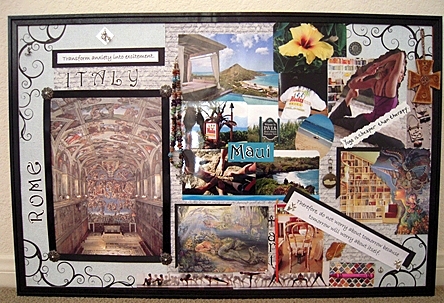 I've been wanting to create an inspiration board for a long time but I've never managed to set aside the time to do it. Thanks to my dear friend, P, who gave me a great IKEA desk, I finally carved out a little corner for myself in our guest room to use as a combination office/craft area. Having my own space got me really motivated to get my inspiration board made so I could hang it right above my desk.
And since March is National Craft Month, I thought this would be the perfect time for this project. BigSis and I are both crazy about all different sorts of crafts and we recently decided that we want to start sharing more "DIY" crafts with you here on our site.
This bulletin board was Bry's when he was in high school over ten years ago and I've had it stashed in the back of a closet ever since just waiting to be transformed.
This is what it looked like when I pulled it out of the closet.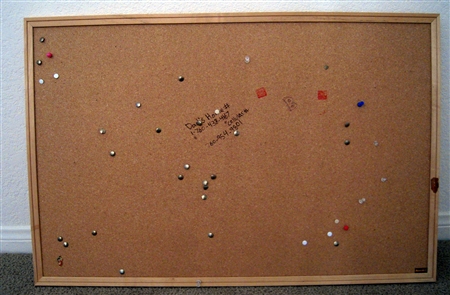 The first thing I did was clean it up and paint the frame a glossy black.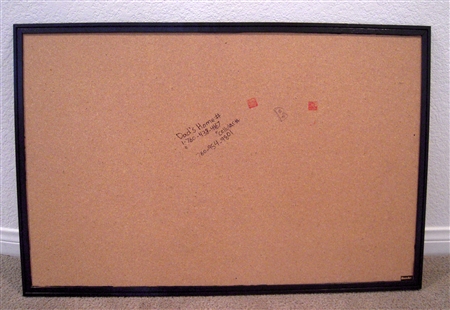 I found some nice, thick Scrapbook paper at Jo-Ann Fabrics for a great price, so I bought four 12″ x 12″ sheets with a scrolly design for the corners and four more 12″ x 12″ sheets of a pretty cursive handwriting design to fill in the center and cover all the cork.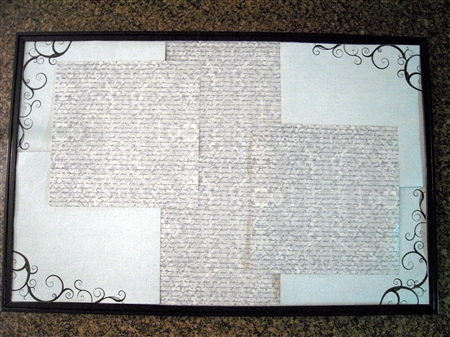 Once that was done, I just gathered some of my favorite photos and items that inspire me and make me happy. Here's a little something about what some of these mean to me.
I've wanted to go to Italy for many years and BigSis & I hope to some day take a two week dream vacation across Italy.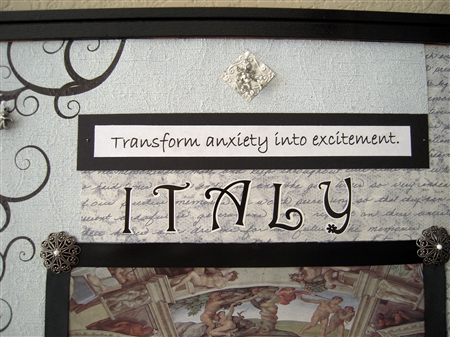 I've talked before about how badly I want to see the Sistine Chapel. This is at the top of my bucket list.
Maui happens to be one of my most favorite places on Earth. Just the thought of sitting outside on Kaanapali Beach having lunch at Hula Grill or strolling the artsy/fartsy streets of Pa'ia always makes me smile. These are just a few photos from a previous vacation.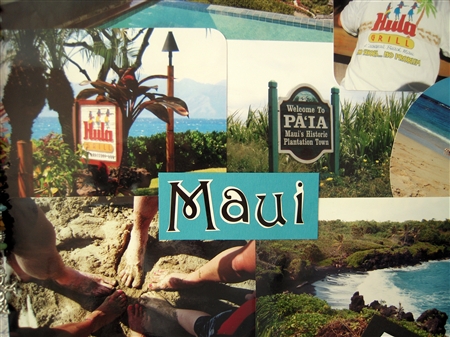 I'm inspired by a lot of different things when it comes to my passion for art. Scents, colors, textures, and creative people inspire me. And reminding myself not to worry so much helps keep my mind clear.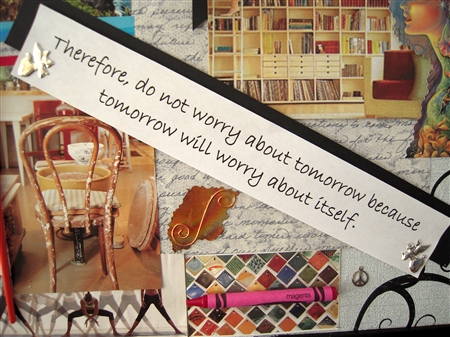 I collect greeting cards designed by the amazing artist, Josephine Wall and these are just a couple of my favorites. I've made four sculptures that were actually inspired by her cards and my Mermaid was the first and inspired by this card.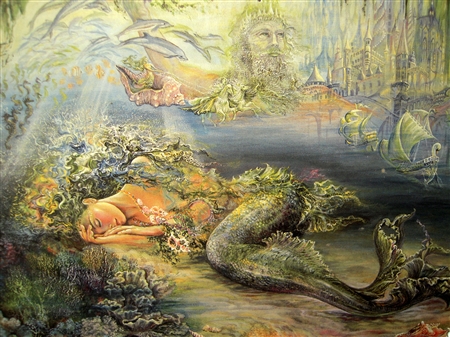 My 'Shell Queen' sculpture that I created several years ago was my first to ever be exhibited at a gallery show and she was inspired by another one of Josephine Wall's gorgeous creatures, "Shell Child". I'm now in love with "My Lady Unicorn" and I think she may be my next sculptural inspiration.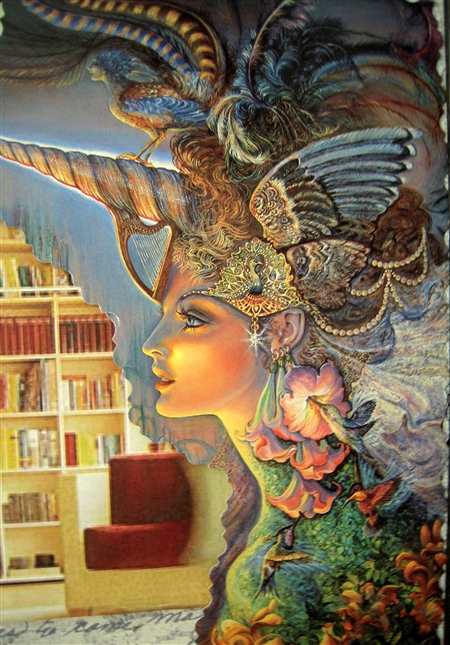 And, I also mentioned my love of these bookshelves on our site a couple of years ago. I'd love to have some floor to ceiling bookshelves like these so I think if I keep looking at this photo and visualizing it, maybe I'll have some like this some day!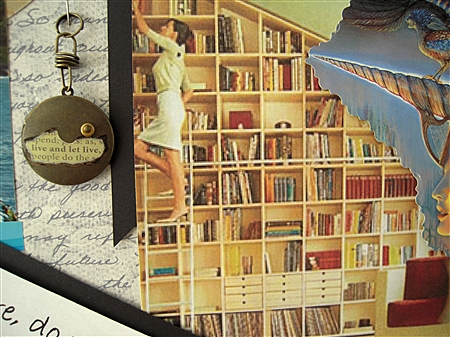 Yoga is a big stress buster for me and I want to be able to do this version of the pigeon pose one day; I came close a few years ago. This photo just inspires me to continue with my yoga practice.
The ceramic cross hanging in the corner is from a series I sold to an art gallery years ago. I have a goal to get back in my clay studio to start producing some new creations before the end of the year and this helps to inspire me.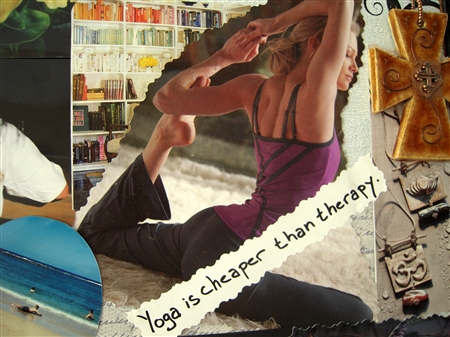 This was such a fun, inexpensive project! I bought some ribbon and some small, headless pins in addition to the scrapbook paper, but the cost was still less than $10.00 since everything you put on your board is either an inspiring photo or an item that you already own.
I just finished my board today and I'm so anxious to get it hung so I can look at it every day. Why didn't I make time to do this sooner?
It was probably because I didn't have one single space in my house that I could call my very own. Now, I do. And it makes me very, very happy!

~LilSis