March 9, 2011
We sisters have a little Irish in our genes, but not much. For some reason, though; maybe because my hubby is half Irish, we always have fun celebrating St. Patrick's Day. We usually have friends over, cook some corned beef and cabbage, listen to some Irish music and possibly have a green beer or two. Last year I made this Glowing Gecko Cocktail for some friends and it was a huge hit.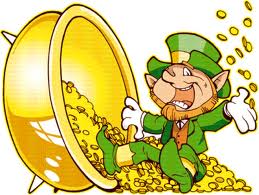 I love the legend about how every Leprechaun has a hidden pot of gold and how they'd rather turn you into a frog than be captured. Even though these guys don't look like it, they are considered to be faeries and I've always been a bit fascinated by the "faerie world."
I was in Michael's a few weeks ago looking for something completely unrelated to St. Patrick's Day but when I saw their St. Patty's Day display, I couldn't resist picking up a four leaf clover cookie cutter and some green sprinkles.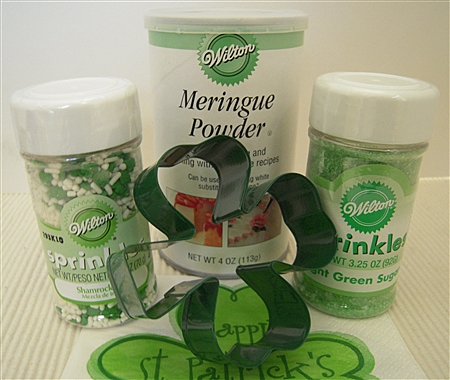 To this day, I can't pass a clover patch without stopping to look for a four-leaf clover. 🙂
Even though I've made a few cookie recipes lately, I have to be honest and admit that I really don't like to bake. If you look at my Thanksgiving Turkey Cookies and my Linzer Heart-Shaped Sandwich Cookies, I usually choose a recipe that's more about the decoration, which is the fun part for me.
For these St. Patrick's Day Clover Cookies, I used Alton Brown's Sugar Cookie recipe that I found while browsing Food Network's website. And since I had pretty good luck with the Wilton recipe for the Linzer Heart-shaped Sandwich Cookies, I decided to go with Wilton's royal icing recipe.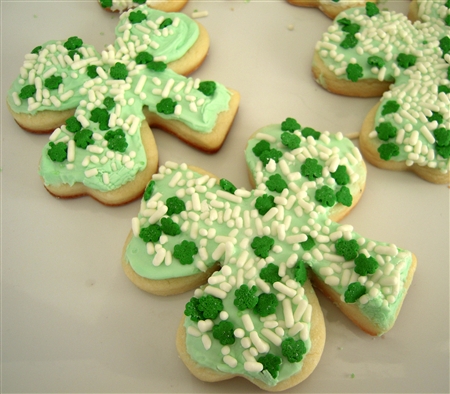 I think I may have bitten off more than I could chew with the icing recipe. Who knew that royal icing had to be mixed for 10 to 12 minutes with a hand mixer? (And, yes, I have survived my entire adult life without owning a stand mixer.) I even had to recruit my hubby to help me with the mixing of the cookie dough when my arm got tired.
This sugar cookie recipe was pretty simple and the cookies turned out perfect! I'm not a big sweet eater but if I'm going to eat a cookie, I like a soft cookie and I prefer something like a shortbread so that's probably why I like these so much. They were soft and moist and not overly sugary!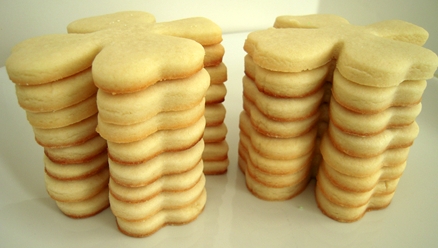 For me, the royal icing was a royal pain in the "you know what" and these sugar cookies are perfect without it!

~LilSis