March 16, 2011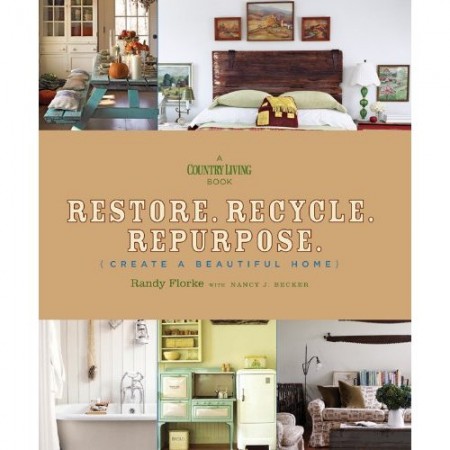 First of all, if you've found your way here after reading about our Natural Dyed Colored Easter Egg Project in the April issue of Country Living Magazine, we'd like to extend a HUGE WELCOME to you! We really hope that you enjoy reading BigSisLilSis!
And, just in case anyone missed our announcement this past Saturday, we're giving away a copy of this beautiful Country Living book to one lucky reader! The contest will officially end at midnight this Friday, March 18th and the winner will be announced on Saturday, March 19th.
This book is full of beautiful photos and inspiring ideas on how everyone can create a home that's as harmonious with the environment as it is beautiful. The book is jam-packed with great, practical advice on ways you can "go green" in each room of your home. BigSis and I have committed to work harder at becoming more earth-friendly in our own homes, and this book tells you how you can do it without spending a fortune.
Want to know how you can enter to win this gorgeous book?
Here are the details!
You can do any or all of these for a chance to win:
Subscribe to our feed. It's super easy!

Come back to the post and leave us a comment letting us know if you're a new subscriber, or if you already subscribe.
Subscribe via email. Would you rather get our feed in your email instead of in a Reader? (Just put your email address right there in the "Subscribe via Email" section in our right sidebar and click on the Subscribe button.) And don't forget to leave us another comment on the post telling us you subscribe via email.
Tweet about the contest and leave us a comment on the post that you tweeted it.
You can enter up to seven times! Since the winner will be chosen at random.org; obviously, the more times you enter, the better your odds of winning this beautiful book.
At the same time we announce the winner of this giveaway, we'll be revealing our next book giveaway. Since the Editors at Country Living were so kind to donate four books, we decided to have a book giveaway every week for four weeks.
So, don't miss out on your chances to enter! We've made it really easy to leave comments!

~LilSis