March 23, 2011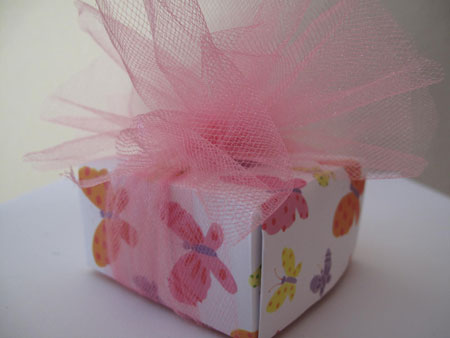 Last time, I showed you how to make painted glass marble magnets, and I promised to show you how I package them for gifting, so let's get started.  We have a lot of cute stuff to do!
The first component is the paper mache boxes.  Here's what you need: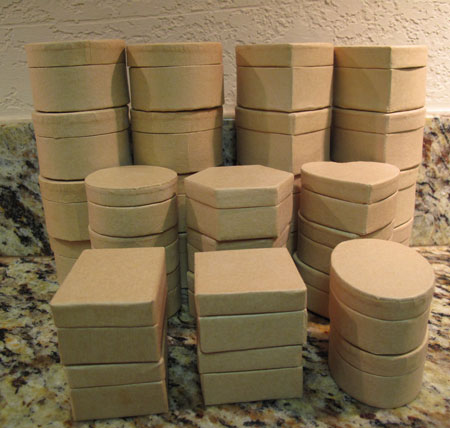 Paper mache boxes: I like the smooth paper wrapped ones that you can find at most craft stores.  They usually come in a couple of small sizes, and if you're lucky you might find them packaged in lots of 6 including a heart, circle, oval, square, octagon and rectangle.
Parchment paper or round labels, and laser printer
Glue: Any glue suitable for paper, like Sobo or Elmer's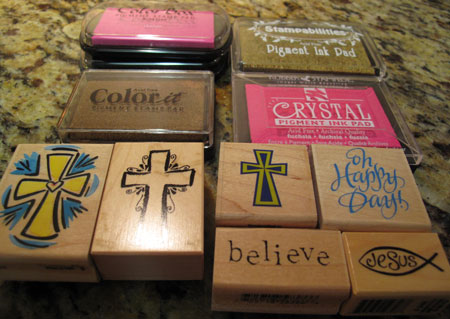 Stamps: I painted crosses on my marble magnets, so I'm keeping with that theme with my stamp choices.
Pigment ink pads
Embossing powders
Embossing heat tool
Tongs
Make the scripture circles:
Choose any scripture (or quote) that you like and type it up.  You can do it two ways.  You can buy a sheet of laser-safe Avery round labels and use the formatting template that comes with them in order to line the text up with the labels.
I like to go another way.  I print my scriptures on tan parchment paper to coordinate with the natural color of the paper mache boxes. I think I've seen kraft-colored round labels online, but I've never ordered them.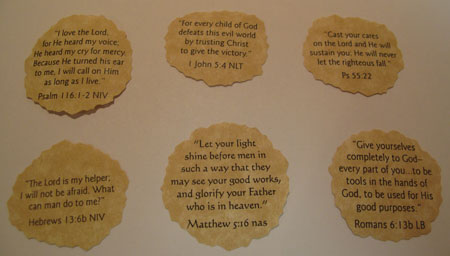 Use software that will allow you to draw circles; I use an old copy of Adobe PageMaker, but PowerPoint or a drawing program will work. Draw a bunch of circles on your page (check the size of your box lid to determine the circle size), fitting as many as you can on one sheet of paper.  Then type your scriptures into the circles, and print them out.  Carefully cut out the circles just inside the lines with scissors.  I like to use deckle-edge scissors for an uneven shape.
Add a bit of glue to the back of the parchment circle, smear it around evenly, and place it on the inside lid of your box.  Smooth it down so all edges will adhere.  Allow to dry completely.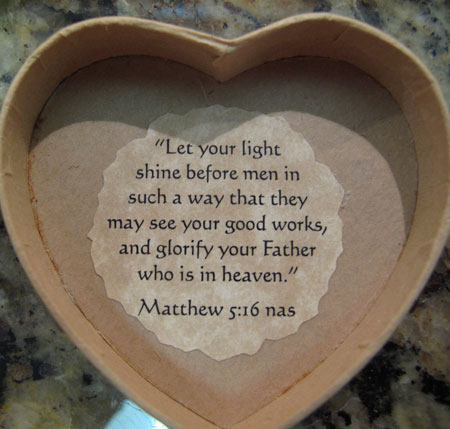 Decorate the top of your boxes:
Choose a stamp that will fit the size and shape of your box.  I'm in love with this "believe" stamp.  if I ever got a tattoo, it would probably look like this "believe"!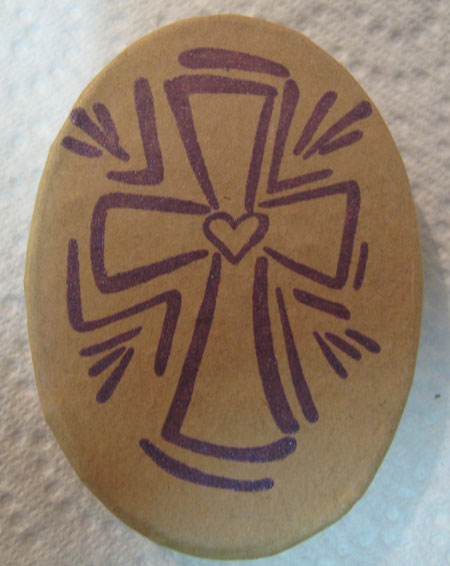 Apply the pigment ink to the stamp and then apply the stamp to the box with even pressure, but don't press down too hard or you'll crush the box.  Try not to rock the stamp back and forth. Lift the stamp carefully off the box.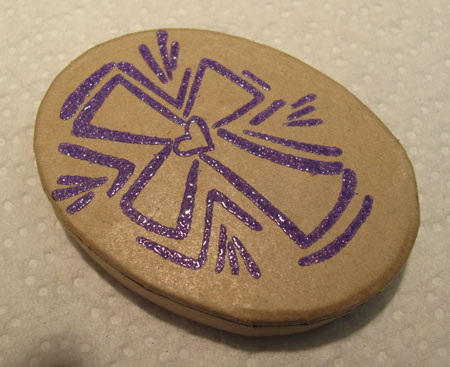 Sprinkle a generous amount of embossing powder all over your stamped design.  I like to do this over a paper plate to catch the excess.  Use a different plate for each color of embossing powder. When you're finished, just bend the paper plate into a pointy little funnel and pour the powder back into the jar.
I'm crazy about a couple of embossing powders from Stampendous: Pearlized Carnelian (it turns all gold and gorgeous when heated) and Copper Tinsel (it goes all shimmery glittery).  I love how they look on the paper mache.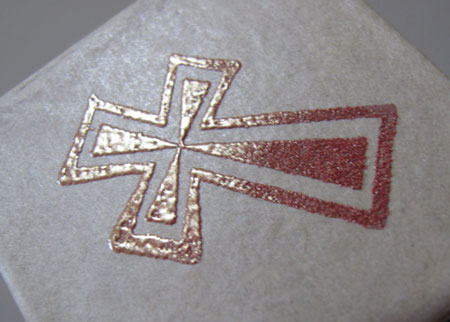 Holding the box top with tongs, turn on the embossing heat tool. Hold it a few inches away from the stamped image, and move it back and forth until you can see the embossing powder has melted evenly all over the image.  It won't take very long;  maybe 10 seconds, depending on the stamped image.
Some powders – like the Pearlized Carnelian ad Copper Tinsel – will magically change color.  Be aware that some powders are very susceptible to scorching if they are heated too long, especially the glittery ones.  I've done it, so learn from my mistake!
Your paper mache box is finished! The bottom of your box is still blank at this point, so you can write something there ("Love, BigSis"), or glue on another parchment circle with a message on it ("Merry Christmas 2011").
Now for the origami box you'll snuggle the paper mache box into!
All you'll need for the origami box is cardstock, a paper trimmer, a bone folder, two-sided tape, a ruler and a pencil.  Easy enough, right?  If you're a scrapbooker or a cardmaker, you already have these supplies on hand.
You'll need two pieces of cardstock for each box.  You can use solid colors, coordinate a printed top with a solid bottom, or use two coordinating prints.  With the paper trimmer, cut one 8-1/2″ square for the top, and one 8″ square for the bottom.  This will give you a finished box top that is about 3″ square, and a bottom that is about 2-13/16″ square.  I've seen some stacks of cardstock at the craft store that are already 8-1/2″ square, and that would be perfect for this project.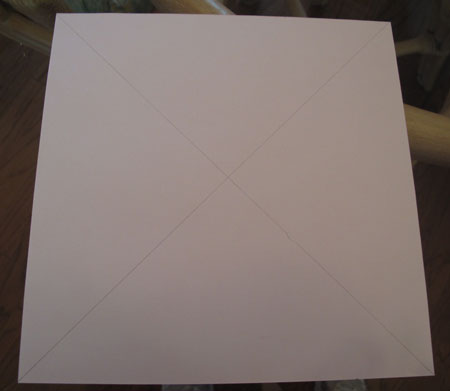 With a ruler, lightly draw a diagonal line in pencil from corner to corner.  Some tutorials for this box will have you fold the paper corner to corner, but that will leave an "X" shaped crease on the top of your box, and I like for my box to be smooth, smooth, smooth on all 6 sides.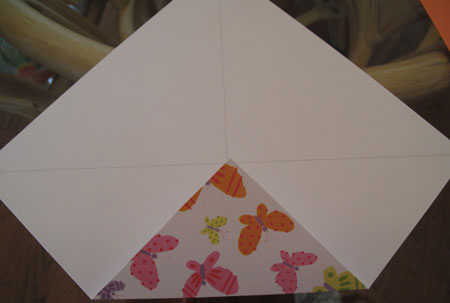 Working on the wrong side of the sheet, take one corner and fold it up to the place where the two pencil lines meet in the middle of the page.  Unfold.  We're going to call that fold you made the "first crease".  Do the same thing for the other 3 corners, so you'll have a "first crease" for all 4 corners.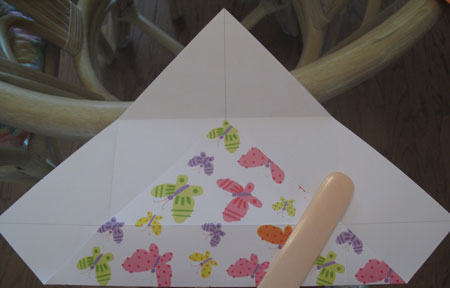 Next, take a corner and fold it up past the middle of the page to meet the "first crease" at the pencil line.  Unfold.  Do the same thing for the other 3 corners. Each time you make a fold, crease it down sharply with the bone folder or the edge of a pen.  Doing this will make the shape of your box more crisp.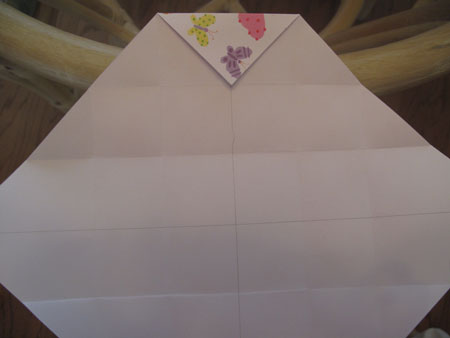 For your last fold, take a corner, and fold it down to meet the "first crease" that is closest to it.  Unfold.  You're not going across the middle of the page for this fold.  Do the same thing for the other 3 corners.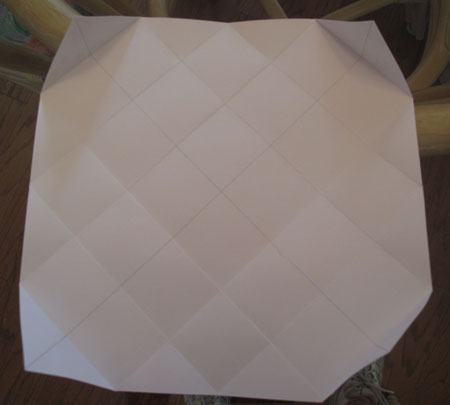 So, you made 3 folds with all 4 corners:  up to the middle of the sheet, across the sheet to the "first crease", and then down a tiny bit to it's own "first crease".  Your page should look like this.  You have a nice grid of even squares, with a bigger square in the middle.  This is your box top or bottom.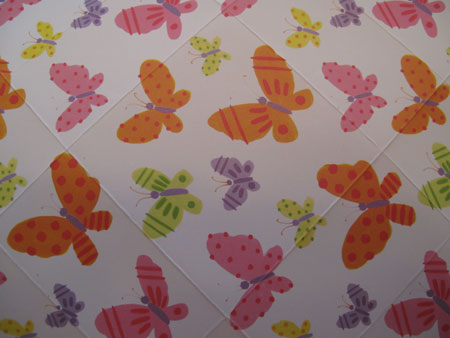 Now we'll take this creased piece of paper and turn it into a box. You're going to fold two opposing sides of the page into a little valley shape, as you see in the photo.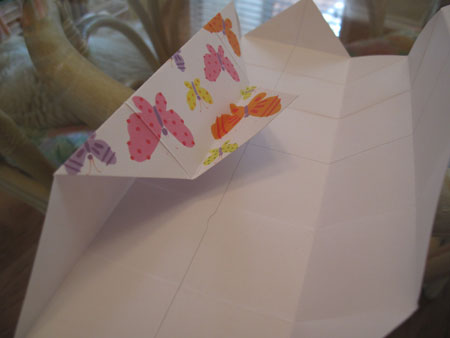 Add a tiny bit of double-sided tape to the bottom of the point, so it will stay in place on the bottom of the box.  Do that for both sides. Do you see the box taking shape?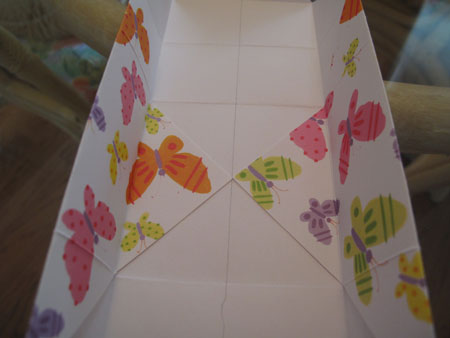 On the ends, you want to have a smooth finish so you need to make a "valley fold", tucking the end pieces under.  This is hard to describe in words, so please see the photo below.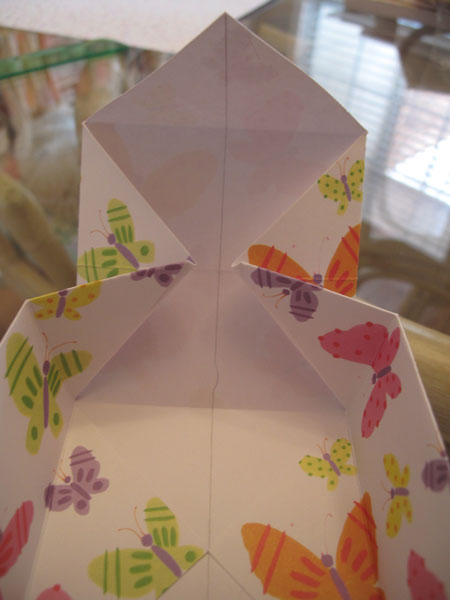 Attach tape to the bottom of these points on each end, and adhere to the bottom of the box.  It might help to run the bone folder along the top edge of the box, to get a nice sharp edge there.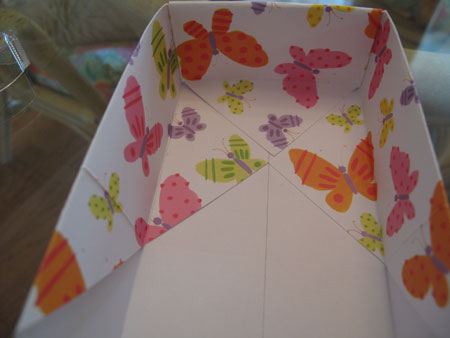 Voila!  You just made a box out of nothing but paper and a bit of tape!  All you had to invest was about 8 minutes of your time per box!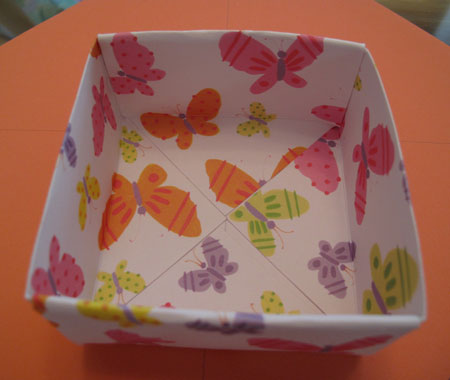 This is the inside of your box…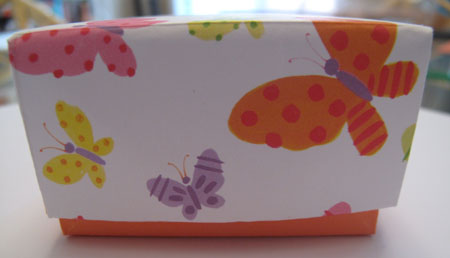 one side of your completed box with it's solid orange bottom…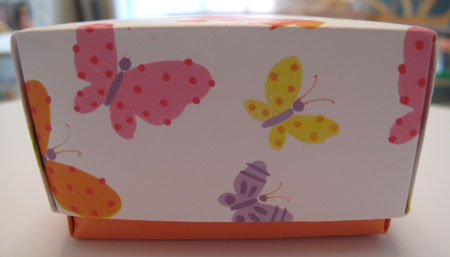 and the other side.
You have all of these cool components; what do you do with them all?
You have painted glass marble magnets…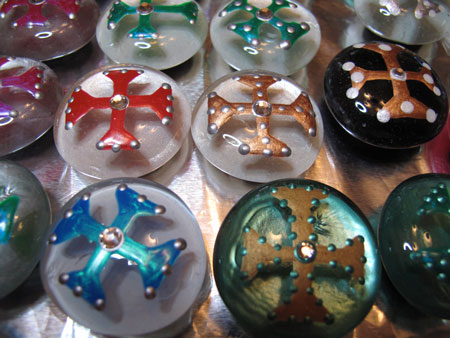 paper mache boxes…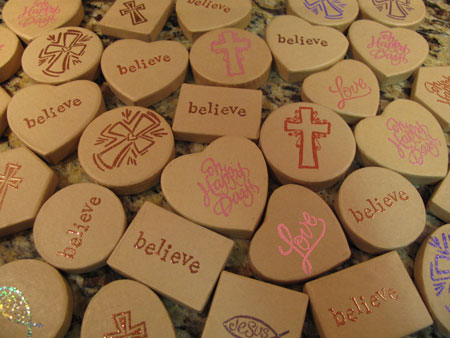 and origami boxes.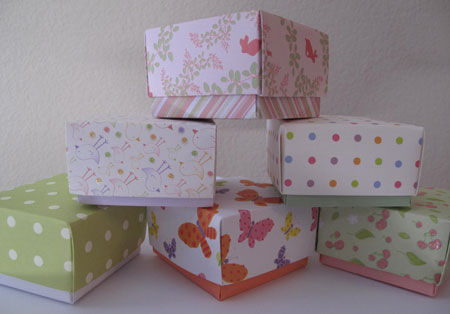 Let's put them together into a beautiful little gift that some lucky person will adore!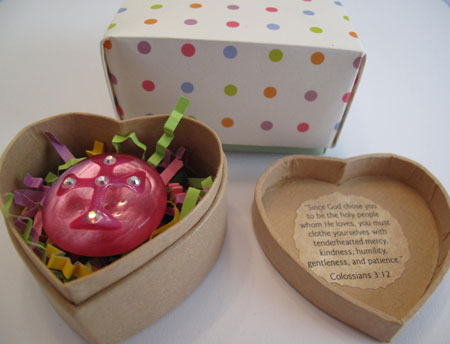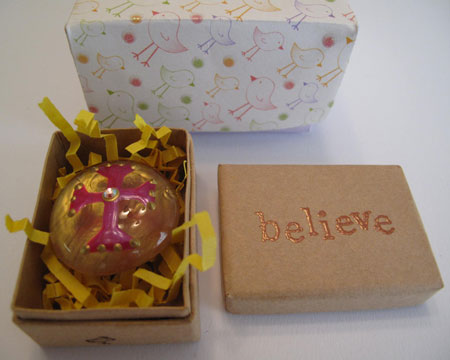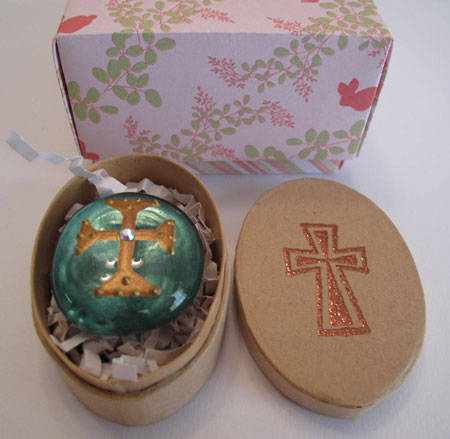 Take a paper mache box, add a little paper shred, and choose a marble.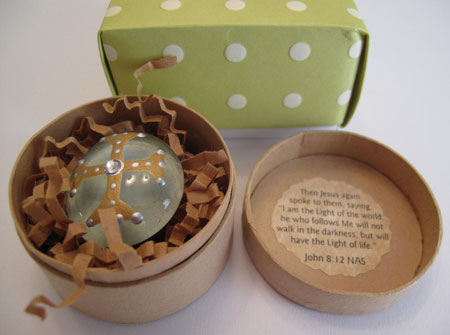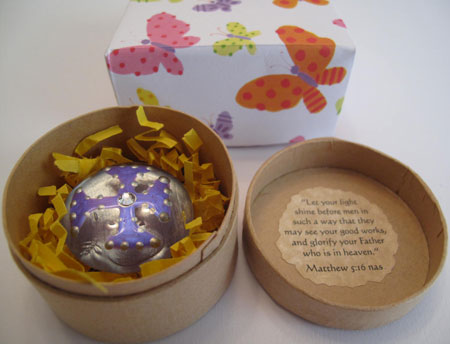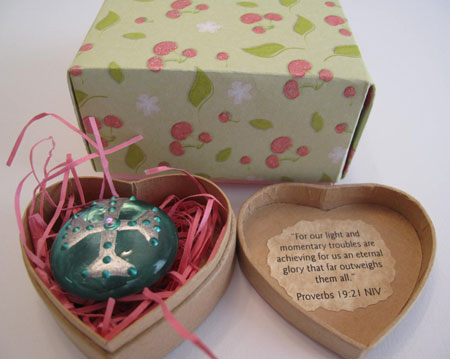 Tuck your paper mache box into a drawstring bag.  Some of the bigger boxes won't fit, but that's ok.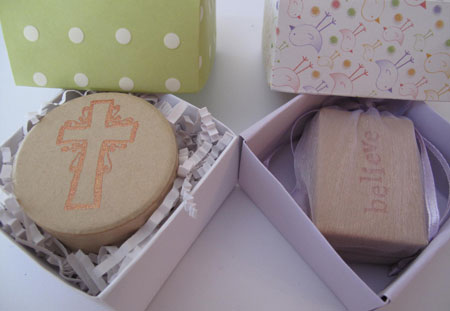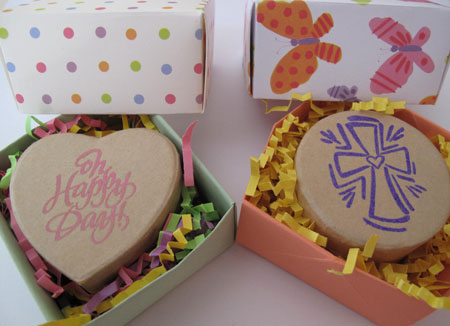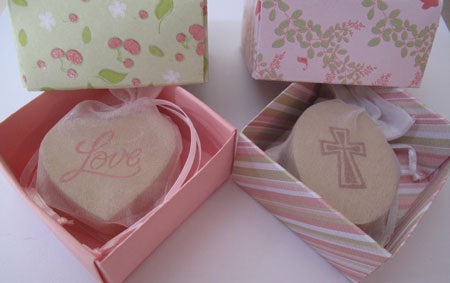 Place the paper mache box into the origami box, adding a little more shred around it if you want to.  Put the top on, and add a tulle bow.
Cut a piece of tulle that coordinates with your box color.  For this 3″ box, I used a piece around 6″ x 30″.  You want plenty of it to get a pretty full effect.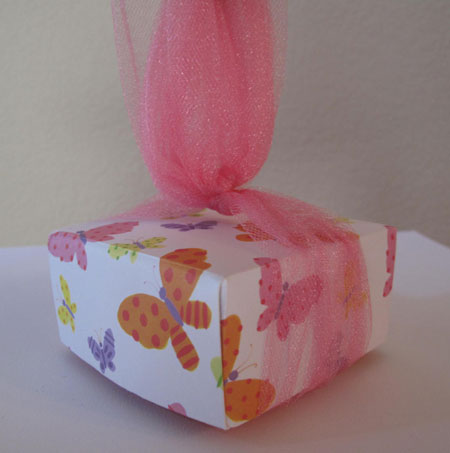 Tie the bow on as you normally would, and then cut the loops. Pull the cut loops and the loose ends straight up, and cut them straight across to be even. Pull each of the 6 ends out to open them up, and arrange into a poofy bow. Ends cut shorter will make a tighter looking "poof", while longer ends will look fluffier.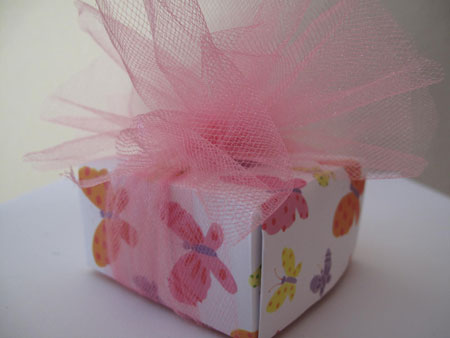 There you have it!  Your pretty painted glass marble magnet is nestled in shred inside a box with a message inside a box with a bow!
Before I go, I want to give you some ideas on what you can do with these.  Of course, you could sell them.  I sold several hundred to an organization for their annual meeting a while back. Each participant got their own as a thank you gift for attending. I've also sold them a few at a time for Christmas gifts; they make awesome stocking stuffers and gifts for pet sitters, hairdressers, coworkers, or your kids' friends.  They're also great little non-edible treats to tuck into Easter baskets.
My favorite thing to do with these is to randomly give them away. One year on Valentine's Day, I took a whole bag of  them to the cancer floor in a local hospital, and let the nurses distribute them. I've also given one to the person working the drive-through at a fast food restaurant who seemed to be having a bad day. I've given them out to employees of a drugstore who were having to work on Christmas Eve, and I've also given them to the volunteers on my team at the church preschool.
I don't tell you about these things to boast or to glorify myself; I just want to give you some ideas and start you thinking.  I bet you can come up with many more ideas.  If you keep a few in your purse or in your car, you'll be surprised at the occasions that arise when a little gift of encouragement is needed.  I bet you'll be glad you have them, as I have been!  One little note: when I'm putting them in my purse or car, I just put the paper mache box in a drawstring bag, and skip the rest of the packaging.
I hope you enjoy this little craft project as much as I have enjoyed sharing it with you!  If you make any of these items, please send me a photo!

~BigSis