May 13, 2011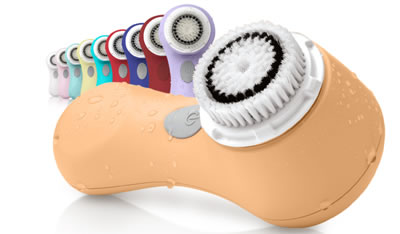 Step into Spring with this fun new color!
I just received an email from Clarisonic about their new tangerine Clarisonic Mia; so now you can choose from ten gorgeous colors; including yellow, pink, turquoise, blue, garnet, and more!  If you're going to use this wonderful little cleansing system every day, you might as well get one in your favorite color, right?
I haven't talked about the results I've seen from using my Clarisonic Mia, so I thought this would be a good time since I've been using it regularly for about four months now.
They don't have a photo of my Mia on the Clarisonic site any more since it was a limited edition, so here's a photo of my cute, little Mia.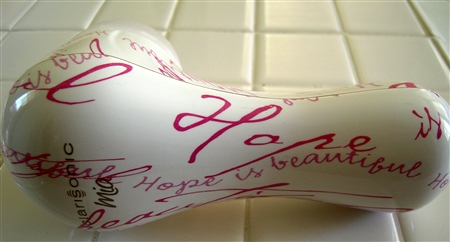 If you love the design on this one, you can still buy the CLARISONIC Mia Sonic Skin Cleansing System, Limited Edition Hope is Beautiful
from Amazon for $129.99.
BigSis talked about the results she saw from using her Clarisonic back in January of last year. I still wasn't able to justify the initial investment at that time, but after she talked about the Pink Clarisonic in October of last year, I decided since she was so happy with her results, it was definitely worth me giving it a try.
I was really very lucky and never had skin problems as a teenager or through my 20s and 30s. I admit that I was even quite lazy taking care of my skin through my 20s but when I turned 30, I decided that it was time to take better care of it. Since then, I've been religious about taking off my makeup at night and using eye creams, night creams and day time moisturizers to try to take care of my somewhat dry skin.
I guess you can say that I've still been a little lazy because I've been using the Olay cleansing wipes to take off my eye makeup and to wash my face. During these "pre-menopausal", very "hormonal" last few years, I've had monthly breakouts that I've never experienced in my entire life! So, what I was doing obviously wasn't working and that's when I decided to buy myself a Clarisonic.
Neither of us are getting paid to endorse this product, but when we find something that works for women our age, we love to share it with everyone. I use mine once a day, at night, and you can still use your favorite cleanser like I do, instead of the Clarisonic cleanser and it works just as well.
Here are a few things that I noticed within a very short time using my Mia:
Less breakouts immediately and now very rare breakouts!
Pores appear smaller.
Skin seems tighter and feels smoother.
This cleansing system has made more difference in my skin than I could have imagined. I wish that I hadn't waited so long to buy myself one but I'm happy that I finally did. If you have any issues at all and want to improve the look and cleanliness of your skin, we both highly recommend the Clarisonic!  🙂

~LilSis