June 11, 2011
We had a great time last week while BigSis was here in California visiting and helping me prepare for the big baby shower! We ate Mexican food every single day during BigSis' visit and may have over-indulged just a little bit, but that's just what we do. It's tradition.
Now, it's back to the grindstone and the gym for both of us. BigSis is back to work in Texas and today was my first day back to work after several days off.
We shared a 'sneak peak' photo of these crackers the other day when we talked about the shower and we promised that we'd be back to share the recipe with you.
This recipe is similar to one that SisMama has made for years; with only slight variations like the chives and the rice krispies. You can find this recipe for Cheese and Chive Crisps on allrecipes.com.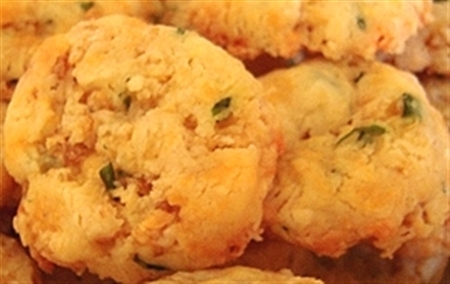 These crackers were absolutely "melt in your mouth' delicious and each and every one of them disappeared long before the end of the day.
I was a little skeptical about the rice krispies at first because I had always made the original recipe that didn't include the cereal, but BigSis convinced me that they would be yummy and now I couldn't imagine making them without the cereal. And the fresh chives made these cheesy crackers even more special.
The only thing that we both agreed on is that the next time we make these, we would at least double the amount of Frank's Red Hot to give them just a little more kick!  
These tasty little crackers would be great for any get-together – especially a cocktail party – so give them a try!

~LilSis