July 6, 2011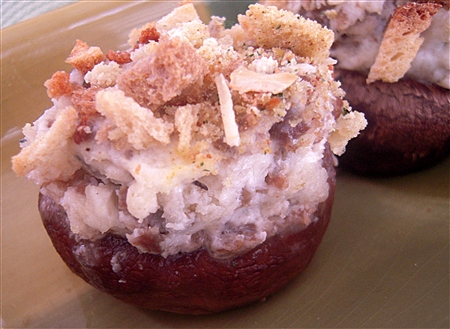 I mentioned this family favorite recipe for Stuffed Mushrooms Italian a couple of years ago around Christmas time and BigSis shared her veganized version with us last New Year's Eve.
It's always been a tradition of ours to make these yummy mushrooms for Thanksgiving, Christmas, or New Years Eve, but these are also perfect for a summer cookout or barbeque. When I made these for our Father's Day cookout, I decided to try to get a couple of photos before they were all gobbled up since I wasn't able to get photos the first time around.
Try these the next time you need to take an appetizer to a 'get-together' with friends or family and I promise you won't be disappointed. They're easy enough to make ahead and then just put on the grill on some foil to stay warm until ready to serve.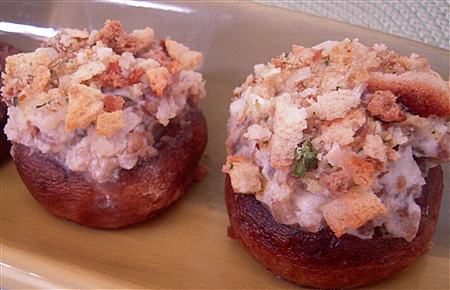 Stuffed Mushrooms Italian
24 large mushrooms
1 pound hot Italian sausage
8 ounces cream cheese, softened
2 shallots, minced
1/4 c. Progresso Italian Breadcrumbs
1/2 stick plus 1 T. butter
1 c. or so seasoned dry stuffing mix (any flavor)
Wipe mushrooms clean, and remove stems. Saute very lightly (only about 30 seconds on each side) in 1/2 stick butter.
Remove sausage from casings and cook in skillet until brown. Drain. Saute shallot in 1 T. of butter until translucent. (I cheat sometimes and just saute the shallot with the sausage.)  In mixing bowl, combine cooked sausage, shallot, cream cheese, and breadcrumbs. Stuff generously into mushroom caps.
At some point after making these for years, we added this one 'secret ingredient' that wasn't in the original recipe. After stuffed, turn the mushrooms upside down and gently press into the dry stuffing mix, just until the top is covered with a layer of stuffing mix. (The dry stuffing mix on top adds a nice crunch and wonderful texture to these mushrooms.) Put in a 13 x 9 casserole dish and bake at 350 degrees until hot. I like to keep them in a few extra minutes until the tops are browned a little.

~LilSis