October 24, 2011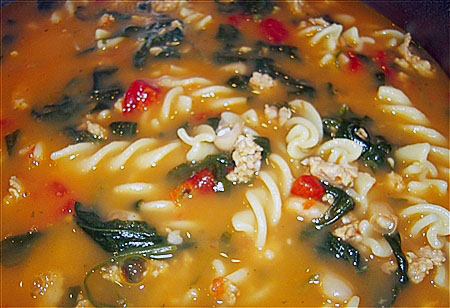 (Once again, I didn't have time to ladle any of my soup into a pretty bowl to photograph it because I had two hungry guys hovering over me with bowls and spoons in hand. One of these days, I'll plan better so I can take photos without my guys around.)
For any of you working women or busy moms driving kids to and from activities all afternoon, here's a super easy and healthy soup that I think your families will love.
I first got the idea for this sausage soup from a recipe I saw on the side of a Premium cracker box but I altered it so much, it doesn't even slightly resemble the original recipe. Here's my version.
Hearty Chicken Italian Sausage Soup
1 lb. chicken Italian sausage (I use Trader Joe's.)
1 shallot
3 or 4 cloves of garlic (I love a lot of garlic, you can use less.)
1 tsp olive oil
32 oz. low sodium chicken broth
1 – 2 cups water (Increase amount of water if you want to increase quantity of pasta.)
2 cans cannellini beans, rinsed
1 can (14.5 oz.) diced tomatoes
2 c. fusilli pasta (I prefer this pasta over rotini.)
1 bag baby spinach leaves, washed
Cook sausage, shallot and garlic in olive oil in large saucepan for about 10 minutes, or until no longer pink, stirring frequently. Add the broth, the water, and the tomatoes and bring to a boil. Stir in pasta and cook 8 minutes or until tender. Stir in the beans and the spinach and cover. Let stand 5 or 10 minutes and serve with crackers or toasted baguette bread.
(Note: one thing that HayHay mentioned is that he would like this better if it had less beans. He didn't like the texture of too many beans with the pasta and I did agree. The original recipe called for one can of beans for 1 c. of pasta but I since I used 2 c. of pasta, I used 2 cans of beans; but it wasn't necessary. Next time, I'll use two pounds of sausage to make it a little heartier and only one can of beans.)
Like I said, this is a super quick and easy soup, perfect for a busy week night, and my family loved it! 🙂

~LilSis