October 26, 2011
Even if you don't have the time to carve a pumpkin this year or just want to try something different, there are lots of different ways you can decorate your pumpkins without carving them. I found these unique ideas in Country Living's Pumpkin Decorating Ideas.
Last year, I talked about how I ran out of time to plan our pumpkin carving night at our house and now that our youngest is 18, he's not as interested in carving pumpkins as he was when he was younger. When we had all the kids at home, years ago, we always had a blast on pumpkin carving nights and at the end of the night we ended up with seven uniquely carved "Jack-o'-Lanterns" lined down the front walk.
Even though things aren't the same these days, I do still love to decorate the front porch with different sizes and shapes of pumpkins and hopefully this year, I'll have some time to decorate a couple of them.
Last year, I posted some Quick and Easy Pumpkin Decorating Ideas for those of you who still want to decorate pumpkins but don't have the time to carve them.
A couple of my favorite ideas from that post are these miniature pumpkin winged bats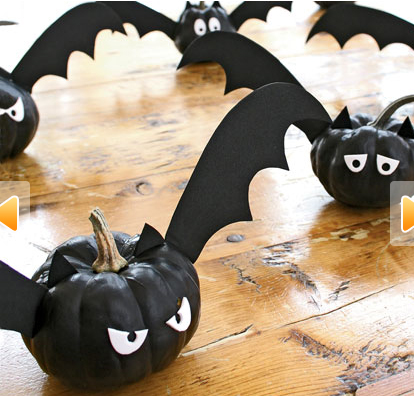 and these adorable, painted kitten pumpkins.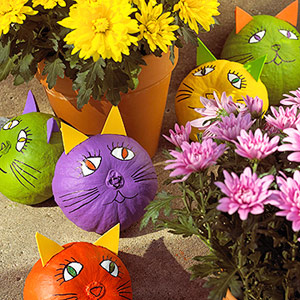 Here are a few more fun ideas from Martha Stewart's Halloween Pumpkin Carving and Decorating Ideas.
And, no, we aren't getting paid by Martha Stewart, but if you do have the time to carve pumpkins this year, you've got to check out her Halloween Pumpkin Carving Ideas! She has some of the cutest carved pumpkins! Here are a few that I love.
And, I love this Pumpkin Party Cooler so much that I think I'm going to have to make one of these!
Isn't that cute and festive? And, since I love making festive cocktails, I decided to experiment with a new one for Halloween this year! Be sure to come back in a few days to see whether or not my Candy Corn Martini was a success. 🙂

~LilSis