October 31, 2011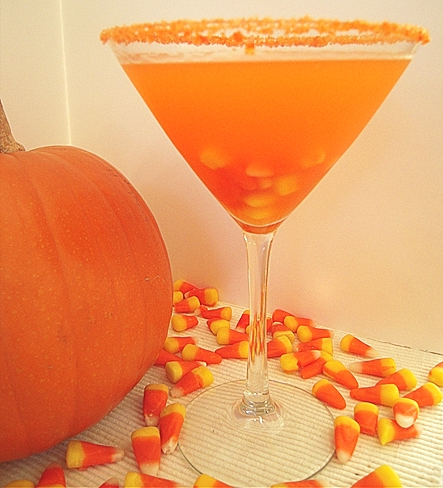 Like sweet drinks?
If you do, then I think you'll really enjoy this drink, but, if you also love candy corn like I do, then you're going to love this drink! But, beware! It's super sweet!  🙂
We're celebrating Halloween here at Lil Sis' house with a festive Candy Corn Martini. There are several different recipes floating around for this martini, but I started with Food Network's Candy Corn Cordial Recipe and adapted it a little. Almost all of the recipes for this drink call for an egg white to create some froth on top, but I chose to leave that out.
I decided that the martini would look even more festive with some orange sugar around the rim, so I just made my own by mixing a few drops of red and yellow food color with several tablespoons of sugar.
Let me start by saying that I don't have a sweet tooth and normally don't eat candy or drink sweet drinks, but due to my obsession with candy corn, I had to try this one. I started out this Halloween season only buying one bag of candy corn to make these martinis, but on my last couple of trips to the store, I couldn't resist when I saw the Indian Corn and the Autumn Mix.
I'm going to have to take all of this to work just to get it out of my pantry or I'll be eating candy corn for months.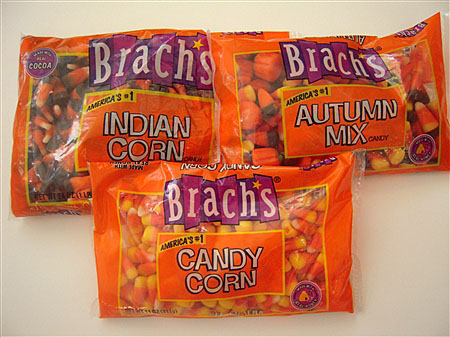 Now, let's get to the Candy Corn Martini. This is a very simple cocktail to make; you just have to allow a few hours to infuse the vodka with the candy corn. Here's all you need: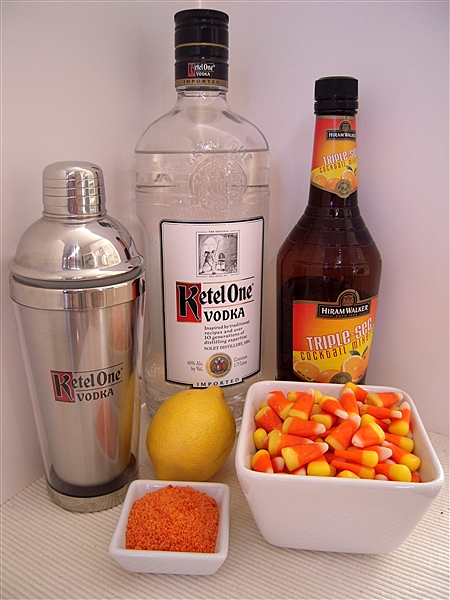 Candy Corn Martini
(adapted from Food Network)
1/2 c. candy corn
1 c. vodka
2 oz. orange liqueur (I used Triple Sec)
Juice of 1/2 lemon
Candy corn for garnish
Sugar
Red and yellow food coloring
Infuse the vodka: Combine the candy corn and vodka in an airtight container; set aside for at least 3 hours, then strain.
Make the martinis: Rub some lemon juice on the rim of the glass and turn the glass upside down into a plate of the orange colored sugar. Add 4 ounces of the candy corn vodka, the orange liqueur, and the lemon juice to a shaker filled with ice. Shake vigorously for at least 30 seconds. Strain into 2 chilled martini glasses and garnish with candy corn.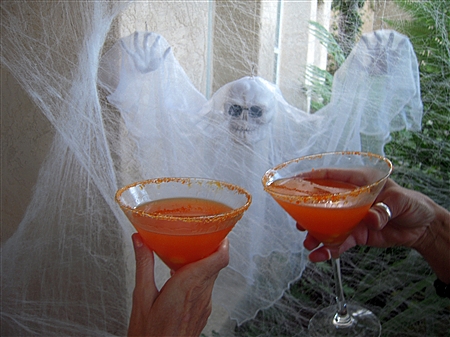 Enjoy!
HAPPY, HAPPY HALLOWEEN!

~LilSis