February 19, 2012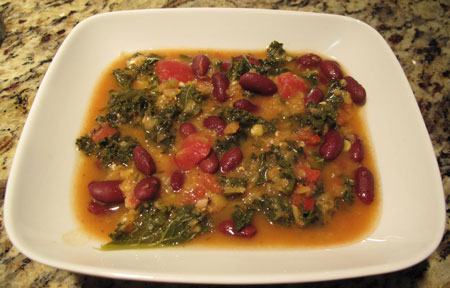 I'd never even tasted kale until a couple of years ago, and when I finally did try it, I was convinced that avoiding it all those years had been a wise plan.
My first experience was a raw kale salad from a local natural food store's prepared food bar. It was bitter with very little flavor otherwise, but the worst part was the texture…kind of like shredded up brillo pad. It was nearly impossible to chew, and I certainly didn't want to swallow it.
I decided I didn't like kale. No worries; there are plenty of other nutritious things for a vegan girl to eat, right?
Fast forward to the first time I ever tried kale chips. What? They're delicious? How can that be? I don't like kale. Aha, that's where I was wrong.
Turns out I love kale, in fact, I can't get enough of it, and I seldom eat it in baked chip form. Right now I'm going through two bunches a week…red kale, curly kale, lacinato kale. Got kale? I'll eat it.
Since I finished the Clean Program 21-Day Cleanse about a month ago, I've stuck with the program pretty closely. Ok, ok, I did have that one major fall off the wagon with the vegan queso and blue corn chips episode a couple of weeks ago. But other than that…I'm eating pretty clean. It's what my body demands now. And I'm happy to comply.
I have two or three go-to kale recipes in regular rotation, and after today I have a new one to add. This Sunday Supper recipe for Hearty Dal Soup is from Forks Over Knives: The Plant-Based Way to Health
, and was contributed by Mary McDougall of the McDougall program fame.
Please do yourself a favor and go to their web site and check out the McDougall recipes. I just found the Hearty Dal Soup recipe there, and can't believe I've never known about this treasure trove of wonderful sounding and easy recipes before.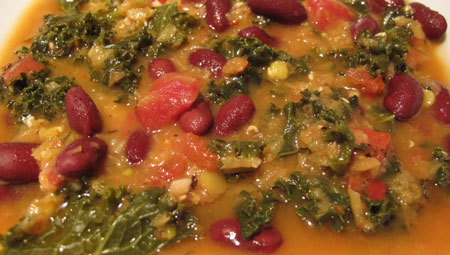 Besides being easy, this recipe is endlessly customizable to what you have on hand. Since I have this little love affair with kale going on right now, I used a whole bunch of curly kale in place of the 2 cups of chard (I needed a little extra water because of that). I was out of cumin, so I substituted a bit of Penzeys Southwest Seasoning which contains some cumin.
I – of course – used 4 or 5 cloves of garlic instead of 2, and added kidney beans since all of my garbanzos made their way into hummus last week. I left out the potatoes altogether since my body screams out "CANDY!" in glee when it sees a potato coming my way, and you know that's going to mean excess poundage on my derriere. I was out of onion, so I added chopped chives at the end.
See what I mean? Use what you have. One last note. The instructions say to cook for 50 minutes or until the lentils are soft. When I checked on mine about halfway through, they were already falling apart. That actually turned out to be a good thing though, since most of the lentils turned into a wonderful creamy sauce for the kale, tomatoes and kidney beans to swim around in.
I highly recommend this recipe, for Sunday Supper or any time. The flavor was out of this world! I sprinkled on some Frank's Red Hot and a bit of Daiya PepperJack, and it was perfection. Just what I needed to wrap up a nice weekend and prepare for another week. And I have lunch for a few days too!
Have a wonderful week everyone!

~BigSis