May 4, 2012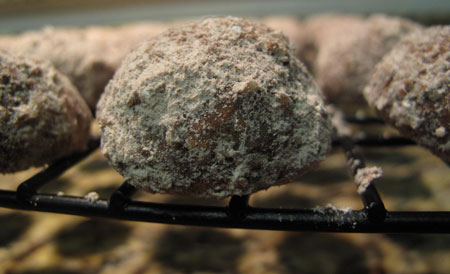 Do you remember Mexican Wedding Cookies? When we were kids we also used to call them Snowballs or Almond Crescents. They were essentially the same recipe: flour, butter, powdered sugar and chopped pecans. We rolled them into small balls or crescent shapes, baked them, and then rolled them around in more powdered sugar.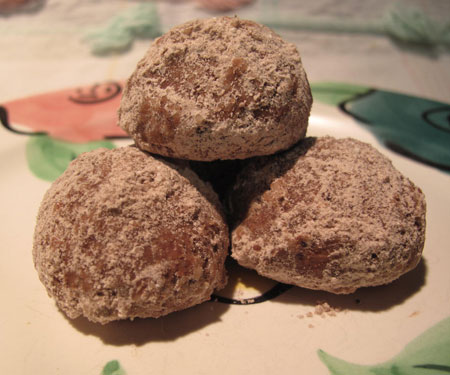 I've always loved these cookies. They're tender, crumbly, gently nutty, and powdery sugary, but just barely sweet and perfectly bite-size!
When I was thinking about baking something sweet for Cinco de Mayo, I thought of Mexican Wedding Cookies. With a twist. How about a touch of chocolate? And cinnamon. And almonds. And vegan, of course. Done.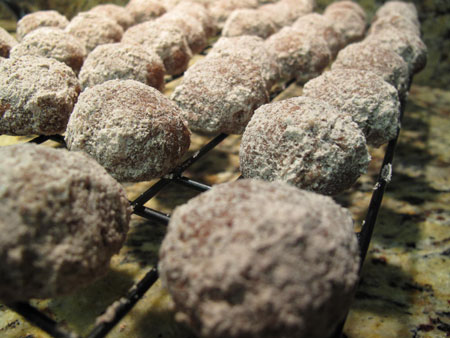 Chocolate Mexican Wedding Cookies (Vegan)
adapted from Williams-Sonoma
2 sticks Earth Balance, at room temperature
1 1/4 cups powdered sugar (divided usage)
1 tsp vanilla extract
1/4 tsp salt
1 3/4 cups less 1 tblsp all-purpose flour
2 tblsp cocoa (divided usage)
1 tsp ground cinnamon
1 cup ground blanched almonds
In a large bowl, using an electric mixer, beat the Earth Balance sticks until fluffy. Add 1/2 cup of the powdered sugar and continue beating until light and fluffy. Reduce the speed to low, add the vanilla and salt, and beat until blended.
Sift together the flour, 1 tablespoon of the cocoa and the cinnamon. Add the flour mixture to the Earth Balance and beat on low speed or stir with a wooden spoon just until blended. Stir in the almonds. Cover and refrigerate until the dough is chilled but not hard and is no longer sticky to the touch, about 15 minutes.
Preheat the oven to 350°F. Sift the remaining 3/4 cup powdered sugar and 1 tablespoon cocoa into a bowl. Add a dash of cinnamon if you wish.
Shape the dough into 1-inch balls. Place about 1 inch apart on 2 ungreased baking sheets.
Bake until the cookies are just golden on the bottom, 10 to 12 minutes. Transfer the baking sheets to wire racks and let cool for 5 minutes, then remove the cookies one at a time and roll them in the confectioners' sugar/cocoa mixture. Let the cookies cool completely on wire racks. Makes about 4 dozen cookies.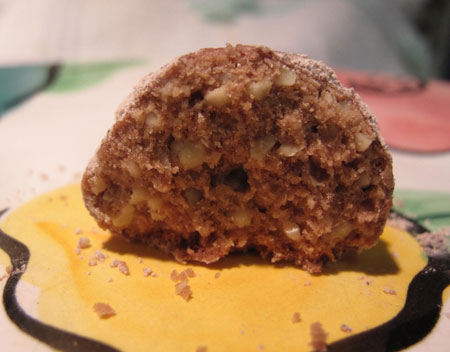 I loved the delicate texture the ground almonds added…
 and the slight touch of cinnamony chocolate flavor…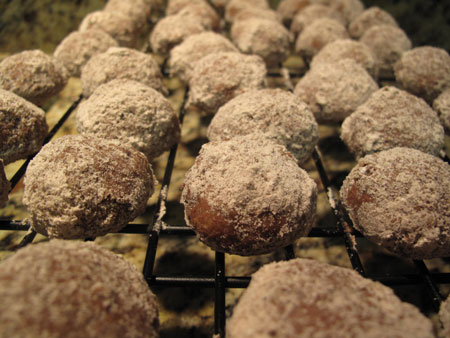 I just love these cookies!
Happy Cinco de Mayo and happy baking!

~BigSis