May 5, 2012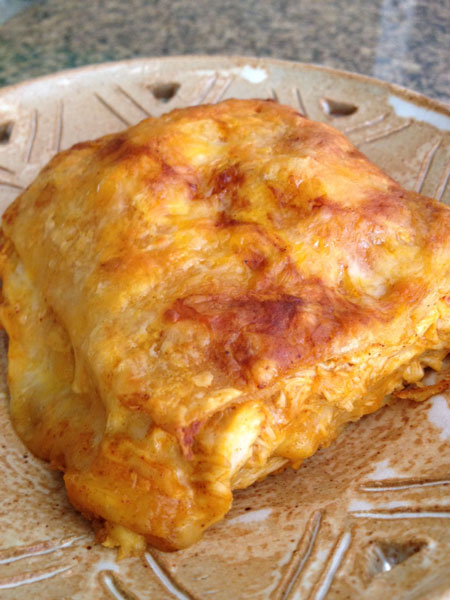 If you still haven't decided what you'll be making for your Cinco de Mayo dinner tonight, here's a super simple Chicken Enchilada Casserole recipe that I make quite often for my hungry guys. And, if you happen to be hosting a party, I promise you that this one is always a crowd-pleaser.
Super Simple Chicken Enchilada Casserole
4 chicken breasts (boiled and shredded)
1 lb. grated cheese (I use a 3 cheese blend)
8 oz. sour cream
1 bottle enchilada sauce
1 pkg. corn tortillas, cut in half
Put a few spoonfuls of the sauce on the bottom of a casserole pan. Line the pan with tortillas. Mix together the sour cream, chicken, and almost all of the sauce. (Save a little sauce for later.)
Layer half of the chicken sauce mixture, then cheese, then tortillas. Finish with the last half of chicken sauce mixture, cheese, and tortillas. Drizzle the remaining enchilada sauce on the tortillas and top with more cheese.
Bake in a 350 degree oven for 20 minutes or until cheese melts.
This is one of those recipes that you can very easily adapt to your liking. I've added green chilies to the chicken mixture a few times and I usually put sliced black olives on the top with the cheese. You could also add chopped bell pepper, onion, or any favorite veggie to this casserole.
I got the original recipe for this casserole from Trader Joe's years ago and it called for their canned chunk white chicken instead of the boiled chicken. So, if you don't have the time to boil the chicken, you can use a good quality canned white chicken and it still turns out very good. I made it that way originally but my guys wanted more chicken so if I have the time, I prefer to boil and shred chicken breasts or chicken tenderloins.
Even if you don't make it for Cinco de Mayo, this is a great everyday "go-to" chicken casserole that you can put together and have on the table in no time at all!  Serve with some chips and salsa or guacamole and a salad and you've got dinner!
Happy Cinco de Mayo! 

~LilSis