May 25, 2012
It's hard for me to wrap my brain around the fact that Memorial Day is just a couple of days away.  In celebration of  the upcoming holiday, this weekend will be filled with family get-togethers, cookouts, relaxing by the pool with friends, picnics, and trips to the lake or the beach.
Our weekend will also include lots of pre-Senior Prom picture taking. 🙂
No matter what you're doing this weekend, I'm sure there's some grillin' goin' on! What are you having? Brisket? Hot dogs? Burgers? A little bit of everything?  Instead of a traditional beef hamburger, how about trying a healthy Spinach Turkey Burger instead?
Before you poo-poo the idea as dry and boring (like most turkey burgers), hear me out!
I'm the first to admit that I love sinking my teeth into a fat, juicy, double bacon cheeseburger but, since I'm trying really hard to eat healthier, I've eliminated almost all beef. We may make a pot roast on a cold day or grill a nice tri-tip for a special occasion, but other than that, we aren't eating much beef. I'm substituting turkey for beef in almost all my recipes, including spaghetti sauce and chili.
The guys had their burgers on a bun but even if I wasn't watching my carbs, I'd still rather just eat mine on a plate with tomato and avocado on the top and on the side.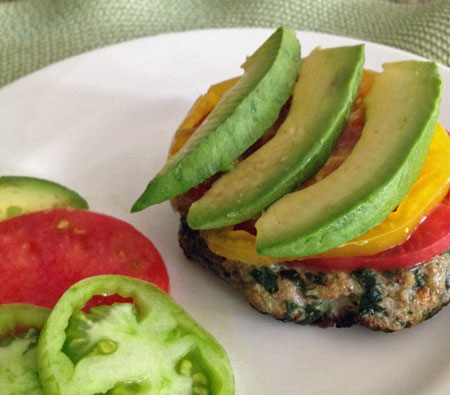 When shopping in Trader Joe's this week, I couldn't resist buying these gorgeous heirloom tomatoes. I got 2 pounds of a nice variety for a great price and they were the perfect addition to my Spinach Turkey Burgers.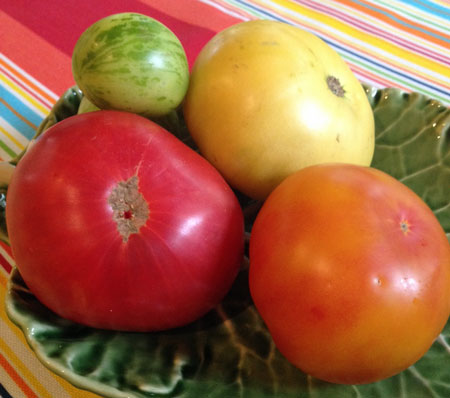 I've played around for a while with different variations of turkey burgers in an attempt to come up with a tasty and juicy burger. By combining the spinach and the mushrooms with the turkey breast, these burgers stay nice and moist.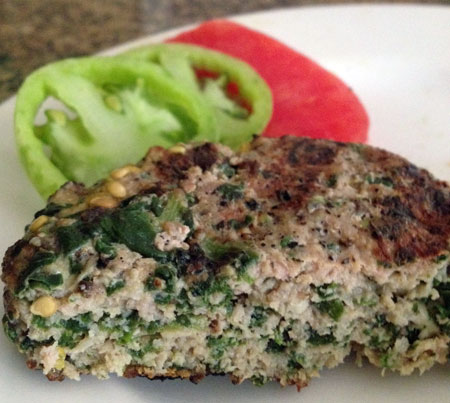 Spinach Turkey Burgers
1 1/2 lbs lean ground turkey breast
8 oz frozen chopped spinach, thawed
4 oz chopped mushrooms (I used Crimini)
1 egg
1/4 c bread crumbs
1 shallot, grated
2 cloves garlic, pressed
1 tsp Worcestershire sauce
Drizzle of olive oil
Pepper to taste
Salt to taste
Mix together in a large bowl the spinach, mushrooms, egg, bread crumbs, shallot, garlic, and Worcestershire sauce.  Add that mixture to the turkey breast and stir together with a fork just until combined.
Divide the mixture and form into patties. Before putting the patties on a plate, drizzle a little olive oil on the plate. This will keep the patties from sticking to the plate and the grill.
Grill for 4-5 minutes on each side, depending on size. Turn as soon as the burgers look white around the edges and release easily from the grill. Let rest for 5 minutes.
(Note: For 1 1/2 lbs of turkey breast, I made eight burgers, but you can make them smaller and they will cook even quicker. The most important part about grilling these is to not overcook them.)
Check back on Sunday for another healthy burger. Since this one is coming from BigSis, it'll be vegan, of course.
No matter where you are or what you're doing this weekend, be safe and have a Happy Memorial Day!

~LilSis