June 3, 2012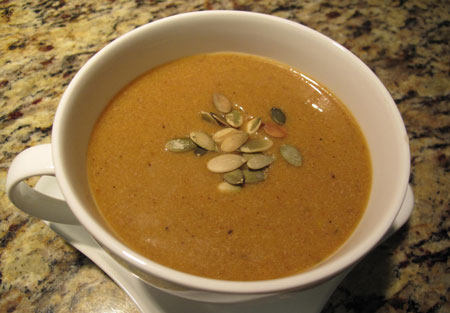 I know pumpkin is more of a fall flavor, but after I made Memorial Day's U.S. Navy Bean Burgers based on Celine Steen's White Bean Cutlets, I wandered through her cookbook (The Complete Guide to Vegan Food Substitutions) some more and found her Pumpkin Bisque.
It sounded so simple to put together and I had almost all of the ingredients, so away I went. You literally combine the ingredients in a pot, bring them to a boil, and simmer for 10 minutes. Done.
The base for the soup is a can of pumpkin puree with some non-dairy milk (I use almond milk) and vegetable broth. Then you add flavors that are anything but wimpy: peanut butter, onion, garlic, garam masala, cayenne and vegan worcestershire sauce.
I followed the recipe exactly except for omitting the marmite (who has that on-hand in the U.S.?) and the maple syrup since the bisque was already plenty sweet for me.
I love how quick and inexpensive this soup was, but the flavor profile is a bit out of my comfort zone. I measured the spices precisely, but this soup was HOT! That's coming from a spicy Texas girl who isn't afraid of heat. Maybe my Penzeys Garam Masala was dramatically more powerful than most?
Besides the heat, which I cooled with a dollop of Sunflower Seed Sour Cream, it was a little weird to me that the soup was also pretty sweet. I can appreciate the balance of flavors, but I don't think it's really my thing.
But, you never know what you like until you try it, and it's always a good thing to branch out of the ordinary a little bit!

~BigSis